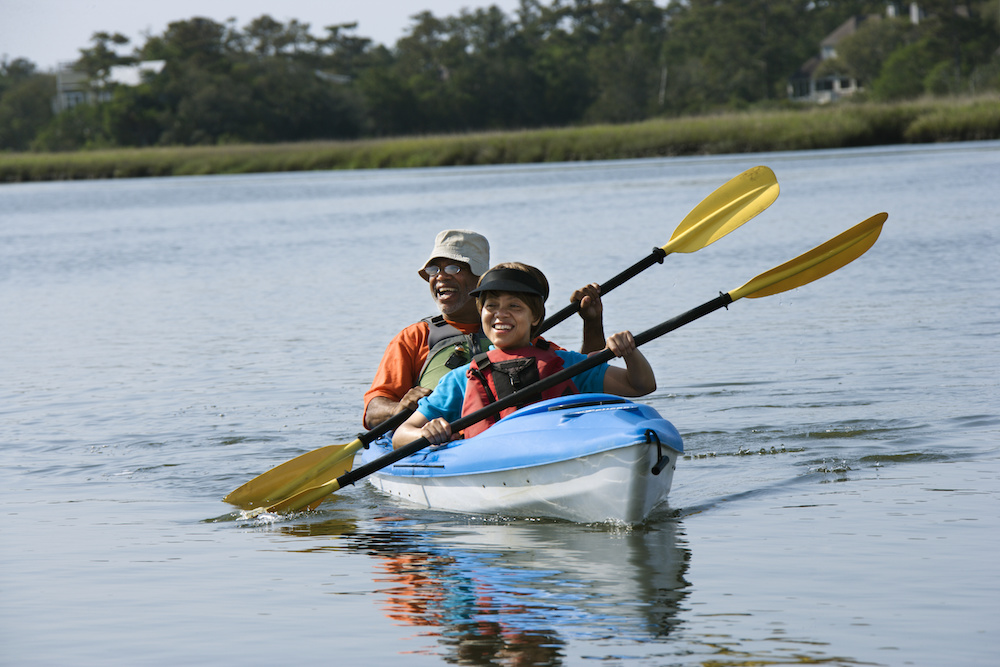 Best Tandem Kayaks of 2021: Complete Reviews With Comparisons
Heading out into the waters on a tandem kayak can be a great way to see more of nature.
What's great about this is it lets you bond and spend precious time with a friend or a loved one.
Before you can do that, you need to invest in the best tandem kayak first.
There are many great options on the market, and they all have different features to offer. The problem is choosing between these different models.
The best approach is to learn more about each of the top tandem kayaks, and then pick one from there.
For example, the five kayaks below all have unique builds and features.
Once you know more about what each one offers, you'll be better prepared to decide on the best pick before going into the water.
What Is a Tandem Kayak?
A tandem kayak is built to hold two people, so they are usually much longer than solo kayaks.
Most range from 18 to 25 feet in length, depending on what size kayak you choose.
Tandem kayaks on the smaller end of that scale can also be used as solo kayaks with extra storage space, but it takes a skilled hand to maneuver them alone.
Usually, tandem kayaks are paddled by two people to keep things moving.
Obviously, this takes some coordination, but they are made to work well even with two people moving things along.
Should I Buy a Tandem Kayak?
Deciding whether or not you should buy a tandem kayak depends on what you are looking for.
There are many reasons to buy a tandem kayak, but there are also some reasons not to.
Let's break down the reasons to buy (and not to buy) a tandem kayak.
They are fun but require teamwork.
Tandem kayaks are a great way for friends, families, and couples to get out on the water and bond together.
There's no doubt that riding it can be a lot of fun.
On the flip side, it can be hard to work together well enough to keep the kayak moving in a successful way.
You might have to practice to get it right, which can be good or bad depending on the personalities at work.
They offer more storage for solo kayakers.
Some choose to get a tandem kayak so that they can travel with just one kayak rather than needing to bring two along.
Even though tandem kayaks are bigger than solo kayaks, you can save some space by just using one tandem kayak.
Tandem kayaks also offer more storage space.
However, this means you will need to be more careful about making sure you maintain your balance well.
Tandem kayaks are definitely an investment in terms of storage, money, and weight, so make sure you are certain about wanting one before you make the leap.
Once you get a tandem kayak, we think you're likely to have a great time with it.
Comparison Chart
Sea Eagle 370 Pro 3 Person Inflatable Portable Sport Kayak
Lifetime Beacon Tandem Kayak
Driftsun Rover 220 Inflatable Tandem Kayak
BKC TK219 Tandem Fishing Kayak
BKC TK122 Angler Tandem Fishing Kayak
Best Tandem Kayak Reviews
1. Sea Eagle 370 Pro Inflatable Kayak
New to the world of tandem kayaking?
The Sea Eagle 370 Pro Inflatable Kayak is an incredibly popular entry-level option.
To find out if this fits your needs, take a look at its stand-out features below.
Review
The Sea Eagle is a very practical choice for those seeking a tandem kayak either for pair kayaking or for additional storage space.
Despite being inflatable, it serves both of those uses admirably.
What's more, you won't have to worry about capsizing. The stability it offers in terms of movement with swells and waves is great.
Because it is an inflatable kayak, transporting and storing when not in use is easy. You can even carry it with you to the lake without any problems.
Even if you don't have any experience inflating such a large kayak, you don't have to worry.
It has a built-in inflation gauge that lets you easily pump up the kayak to the right level and monitor it throughout your adventure.
For your convenience, this Sea Eagle kayak also comes with an easy-to-use foot pump. With this (and with enough practice), you can get everything ready to go in under 15 minutes.
2. Lifetime Beacon Tandem Kayak
Another mid-range tandem kayak that might just be what you're looking for is the Lifetime Beacon Tandem Kayak.
Coming from a highly reliable brand, will it be able to meet all your needs?
Review
There's no denying that Lifetime makes high-quality kayaks.
They've been doing it for years, and they will continue to do it for years to come.
The Beacon, for example, could easily be the best kayak for those looking for a hard-shell one.
The concern that many have when moving from using a smaller kayak to a tandem kayak usually has to do with navigation performance.
Thankfully, this tandem kayak keeps a good balance of stability and performance.
Guiding it around won't be a problem, and you'll be able to keep up your speed without issue.
Additionally, you'll notice that the well-balanced length and width ensure no-nonsense tracking and maneuvering.
Overall, even beginners will find that this kayak is very easy to use.
Learning how to use a tandem kayak after using solo kayaks takes a little bit of time, but this model makes it easy to stay in control.
It also has adjustable foot straps, padded seats, and a number of other comfort-focused features that will keep you in good spirits while on the water.
Finally, the placement of everything, from the handholds to the feet stirrups, is also well thought out.
This Lifetime kayak is indeed designed with the kayaker in mind, and there's really nothing to ask for.
3. Driftsun Rover Inflatable White-Water Tandem Kayak
Next up is yet another mid-range option.
Will the Driftsun Rover Inflatable White-Water Tandem Kayak get you and your friends out on the water with no trouble?
Review
When looking for a kayak that is ready for adventure, the Driftsun Rover Inflatable White-Water Tandem Kayak is a great choice.
This inflatable kayak fills in under 10 minutes.
Weighing in under 30 pounds, it is an incredibly lightweight option, especially for a tandem kayak.
In fact, it can be hard to find a tandem kayak that is as lightweight as this one, and that can be very beneficial.
While many have hesitations about using an inflatable model on white water, that is not a concern for this kayak.
This is thanks to its incredibly durable PVC construction. This material prevents punctions on the kayak through extra-durable protection.
In addition to a drop-stitch deck that can stand up to high water pressure, it is also equipped with a removable tracking fin to improve maneuverability.
Whether you are in rough or flat water, this kayak is designed so that you can stay in control of what you are doing.
Beyond its ability to hold up to the elements, its design also gives you comfort.
The two seats are padded, fully adjustable, and equipped with an extended back support for a more comfortable adventure.
4. BKC TK219 12.2' Tandem Fishing Kayak
Moving on from mid-range options, let's take a look at this high-end tandem fishing kayak, the BKC TK219.
As the name suggests, it's the perfect choice for partners who want to do fishing while out on the water.
Review
Whether you're an angler looking to fish alone or a pair who have better success working together, you need a tandem kayak.
Which category do you fall into? Regardless, it's worth learning more about all that this BKC kayak has to offer the angler on the water.
Starting off with the basics, this kayak has two fully-padded seats, adjustable paddles, waterproof hatches, and paddle parks to make your adventures easy.
Using the kayak, maneuvering it with ease, and keeping it going to your favorite spots become second-nature thanks to its logical design.
Beyond the basic features, it excels in providing what you need for a fishing excursion.
The kayak has six built-in rod holders as well as waterproof hatches and a bungee cargo tie-down. All of these allow you to set up for fishing perfectly.
Two of the rod holders are articulating, while four are flush-mounted. You can keep multiple lines baited in the water at once if you want.
The locations of the mounts also make it easy to keep the rods out of the way while paddling to a new location.
Lastly, the kayak is able to carry 595 pounds, so you don't need to worry about limiting your gear too much when heading out.
5. BKC TK122U Tandem Sit-on-Top Fishing Kayak
The BKC TK122U Tandem Sit-on-Top Fishing Kayak is another high-end option from BKC.
Is this a good choice for you?
Review
A comparable option to the previous BKC tandem fishing kayak, this one has a slightly different setup to be considered.
Both are sit-on-top kayaks, but this one upgrades everything in the TK219 to a higher level in many ways.
The seats on this kayak, for example, are full seats with high backrests, and they have just as much padding as the other BKC fishing kayak.
Epic fishing trips are definitely enjoyable on this kayak, which can hold up to 770 pounds with ease.
There are two flush-mounted and two articulating rod holders, too.
You will find that it is easy to move your rods around as needed so that you can keep paddling while on the water.
This kayak was molded for high stability. It is made from high-density material to ensure that durability won't be an issue for a very long time.
From accessories to design, it has everything you need to have a great fishing adventure on the water with a friend or your loved one.
How Do I Choose a Tandem Kayak?
When choosing between the many great kayak options, it can be hard to know which will be the best tandem kayak for your needs.
Even as you learn more about each of these great options, the details might still not differentiate them enough right away.
How do I choose a tandem kayak to make sure I'll like what I end up with?
Ultimately, there are a few things you should make sure to closely consider:
Size (How long do you want it to be?)
Weight (How much weight can you handle transporting?)
Capacity: (How much weight can the tandem kayak hold?)
Seating (Is the seating going to be comfortable?)
Purpose (Do you need special features, such as a fishing tandem kayak?)
Durability (How long can you expect the kayak to last?)
By looking at these details, in particular, you can compare what each tandem kayak offers to what you need from it.
If the specs don't line up, move to the next kayak on your list.
Are Tandem Kayaks More Stable Than Canoes?
Many try to compare tandem kayaks and canoes because they are almost similar in size and how they are used.
Which one is the more stable choice when on the water?
In most cases, using a canoe is going to provide more stability because of its larger size and higher hull-walls.
This can make you feel safer and more secure in the water.
The problem is that you are also compromising on some things by choosing a canoe over a kayak.
Kayaks are easier to maneuver because of their narrower design. They can also move faster since they are easier to paddle through the water.
Both canoes and tandem kayaks have their benefits.
There is not a simple answer about which is the better choice.
Like most things, deciding which one is going to be best for you will depend on your specific wants and needs.
Where Should the Heavier Person Sit on a Tandem Kayak?
When loading up your tandem kayak for the first time, you might not be sure where you should each sit.
This can be especially concerning when one passenger is much heavier than the other person, such as when a parent and their teenager get on the water together.
Where should the heavier person sit on a tandem kayak?
Generally, you want the person who is heavier and more experienced at paddling to be sitting in the back.
This is not only to ensure the weight is properly balanced for the kayak to keep moving but also so that the power of their paddling is used efficiently.
In some cases, you might have situations where the better paddler is the lighter person.
If this person is significantly stronger and going to be doing the bulk of the paddling work, you can rearrange so that the heavier person sits in front.
Ultimately, you'll want to experiment with both arrangements.
If something isn't working, remember that you can give it another go with a new arrangement.
Don't feel like you have to stick to a specific rule if it isn't working for you and your tandem kayak.
Which Is the Best Option for Tandem Kayaking?
Now that you know more about tandem kayaks, the top options, and how to choose yours, it's time to make the final selection.
We've found that the Driftsun Rover Inflatable Tandem White-Water Kayak is the best option for everyone ready to get the kayak and get going!
This inflatable kayak is well-made, durable, and has everything you need to use it right away.
If you are looking for a tandem kayak specifically for fishing, the BKC TK122U Tandem Sit-on-Top Fishing Kayak is a fantastic choice.
It has enough room for two or three people, so you can really get out on the water together.
Choosing the right tandem kayak is not always an easy thing to do, but you will likely be happy with your choice if you go with one of the options we looked at earlier.
Make your selection now so that you can get out on the water as soon as possible.