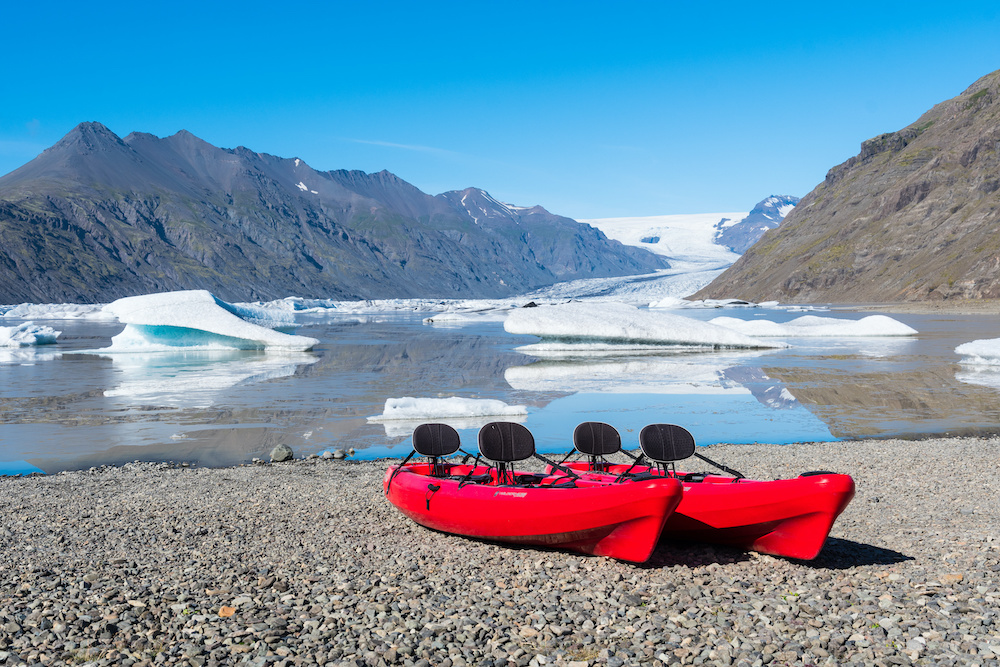 Best Sit on Top Kayaks of 2021: Complete Reviews With Comparisons
Many watersports enthusiasts vouch that kayaking is excellent for the body, mind, and environment.
Having the best sit on top kayak allows you to enjoy your water adventure more.
It's an accessible watercraft perfect for beginners and intermediate paddlers.
To help you find the best options for sit on top kayaks category, our mini sit on top kayak reviews of our favorite choices can lessen the selection.
Comparison Chart
Pelican Sit-on-Top Kayak
Perception Hi Life Kayak
Lifetime Tamarack Angler Sit-On-Top Kayak
Vibe Kayaks Sea Ghost 130 Sit On Top Fishing Kayak
Wilderness Systems Atak 120 Sit on Top Fishing Kayak
Best Sit on Top Kayak Reviews
1. Pelican Sentinel 100x Exo Sit on Top Kayak
Pelican International is a Canadian company that designs and manufactures affordable recreational, angler, or fishing kayaks for more than five decades.
Review
The compact Sentinel 100X Exo is part of the Recreational Collection from Pelican, measuring nine feet and six inches and an overall weight of 40 pounds.
The kayak's length and weight make it easy to store and transport.
This kayak boasts a 300-pound capacity, allowing you to bring some gear, along with your stuff, and enjoy a short and quick camping excursion.
It comes with a removable 13-liter storage compartment called ExoShell with bungee cords for securing oversized items.
There's a smaller space at the kayak's bow where you can keep dry goods or small items you'll bring along.
You can put your water bottle in the molded cup holder placed in front of your seat for convenience.
The molded footrests allow you to find a comfortable and stable seating position while paddling.
It also comes with carrying handles and paddle-tie downs.
The Sentinel 100X Exo's stable hull, made from two deep channels found on each boat's bottom side, keeps the kayak steady, especially on flat water.
With this twin-arched multi-chine hull design, it will be easier for new paddlers to enter and exit the kayak without the vessel tipping over.
This sit on top kayak is the perfect vessel during warm weather since it splashes water on you and into the boat and straight out again through the scupper holes.
The Sentinel's ErgoLounge Seating System has an adjustable high and wide backrest and extra-thick cushioning.
2. Perception HI Life 11
Have fun on the water with the HI Life 11 kayak from Perception.
It has unique features that you won't find in other brands.
Review
Enjoy kayaking and paddleboarding from this two-in-one watercraft, proudly made in the USA from Perception.
This versatile kayak or paddleboard won the International Design Excellence Award in 2018 under sports leisure and recreation class.
It's an 11-foot and 55 pounds kayak that offers smooth tracking and excellent stability, allowing you to stand up and use it as a paddleboard.
This sit-on-top kayak comes with a rigid shell structure with a maximum capacity of 280 pounds. It's designed for calm and slow-moving waters, making it perfect for day trips with your kids or furkids.
The unique swim deck platforms on the kayak's front and rear come with hand grabs and low sides, making it easy to go on and off the boat.
It has a supportive and elevated seat with thick deck cushioning and a fold-down backrest.
You will also find a built-in cooler under it with a drain outlet.
There's a tank well at the back that you can also use as additional storage for other things that you brought along for the adventure.
Experience maximum control with its flexible and detachable fin, ensuring smooth and straight tracking.
You can easily accessorize the kayak using the built-in gear track so that you can mount your camera, phone, speakers, or even fishing gear.
There is a cup holder in front of your seat for added convenience, ensuring that your drink will not spill over.
Transporting the kayak is made easy through the carry handles placed at its center, front, and rear.
3. Lifetime Tamarack Angler Kayak
The Lifetime Tamarack Angler Kayak is a sturdy vessel with a substantial weight capacity that you can rely on as you enjoy your time on the water.
Review
The Lifetime Tamarack is a fishing sit-on-top kayak with a padded seat and backrest that you can easily adjust for added comfort.
It's made of high-density UV-protected polyethylene that can handle all kinds of weather conditions, ensuring that the kayak retains its shape and durability for a long time.
This kayak comes with three fishing rod holders; two are flush-mounted while the other is top-mounted.
There are multiple footrest positions to accommodate paddlers and anglers of different sizes.
Its flat bottom design also ensures stability while on the water.
You will find shock cord straps on both the front and rear of the deck, keeping all your loads safe and secure without the need to use intricate knots.
The kayak comes with two six-inch storage areas: one in the rear and another in front of the seat, where you will also find the built-in drink holder.
The two paddle cradles also come with shock cords to keep it safe and secured, while the T-handles placed on the front and rear of the kayak make it easy to transport.
The Lifetime Tamarack's overall weight is 52 pounds at ten feet long with a maximum weight capacity of 275 pounds.
The kayak comes with excellent features resulting in its superb performance.
The sharp bow provides optimum speed and smooth tracking.
It has deep hull channels for smooth and straight tracking plus chine rails to ensure the fishing kayak's water stability.
There's also a tracking skeg that offers straight paddling.
This Lifetime Tamarack angler kayak comes with a five-year limited warranty.
4. Vibe Kayaks Sea Ghost 130 Angler
As one of the best sit on top kayaks, the Sea Ghost 13-foot angler from Vibe Kayaks is a power-packed fishing machine that can get you farther faster.
Review
The Sea Ghost's sleek hull's creation focuses on merging the effects of speed and stability to create a perfectly-balanced kayak.
This combination allows the anglers to reach their destinations with less effort while enjoying the journey.
Its slip-resistant deck platform will keep you stable while fishing, whether you are sitting or standing.
It's a single-person sit-on-top angling kayak with a length of 13 feet and weighing 75 pounds with a loading capacity of 550 pounds, which means they can fill it up with their catch.
The kayak can accommodate anglers of different sizes with its adjustable foot braces.
The overall design of the boat provides easy access to everything you need during the expedition.
It comes with the Vibe Hero breathable seat adjustable into two different positions for added comfort and support when you are out of the water for long periods.
It's also fitted with four comfortable Vibe Phantom-Grip carrying handles.
Experience maximum control with its toe-controlled rudder system.
It allows you to save on precious energy as you paddle against strong currents and windy days.
You can choose from the multiple storage options placed in strategic parts of the kayak:
Dual-hinge Vibe Versa console with watertight cargo bags and magnetic tackle tray

Sealed eight-inch V-wave deck plate including waterproof cargo bags

Two tackle tray holders

Large front cargo storage

Flex-top gear covered tank well

Substantial rear storage area with bungee cords

Tackle toss tray
Anglers love its customizable work deck since it comes with multiple mounts for all your accessories, which includes the following:
One universal mount for a rectangular-based accessory or fishfinder transducer

Two fishing rod holders, flush-mounted

Two side bungee paddle parks

Six top-loading gear tracks
5. Wilderness Systems A.T.A.K. 120
The ATAK 120 from Wilderness Systems is an upgraded version of the ATAK 140 model.
It offers a newer set of features for more functional performance.
Review
The ATAK 120 or Advanced Tactical Angling Kayak is one of the best sit on top kayaks for anglers.
It's designed to improve the fishing experience of all serious anglers.
The solid construction of the rigid ergonomic handles allows you to carry the kayak more comfortably, reducing hook snags' risk.
You can easily access the stern if you need to modify the boat's electronics and other accessories through the circular stern hatch.
Add or remove your accessories from the boat with the SlideTrax accessory system.
You can also protect your stuff inside the tank with adjustable bungee security straps.
Anglers can adjust the AirPro MAX Seating System to low, high, and recline positions for excellent stability.
The seat's honeycomb mesh material ensures that you stay cool and dry.
There's a scupper hole that allows you to install a side-scan transducer.
You will also find a stand-up assistant strap that can help you move about the deck with ease.
Install or remove the specialized utility pod cover with ease if you need storage for your tools, tackle, or drinks.
ATAK 120 comes with the Keepers XL Footbrace System, padded footrests with an adjustable locking lever for added comfort and support.
It has a removable FlexPod OS console system where you can mount the battery, fishfinder, and transducer.
You will find self-draining storage well located at the bow of the boat that is large enough to hold some of your gear.
Always keep the paddle within easy access with the one-handed bow paddle park.
As for mounting your accessories, you can install the durable bow mount plate in front of the kayak.
Sit on Top Kayak

FAQs
Are Sit on Top Kayaks Any Good?
Sit on top kayaks are ideal for beginners because they offer more stability and maneuverability.
They are more convenient when getting on and off the boat.
This kayak type is also great for calm lakes or rivers and warm weather kayaking with kids or even dogs who want to go off the boat and enjoy a quick swim.
Sit on top kayaks are perfect for nervous paddlers who don't like the feeling of being trapped.
Also, these boat types may tip over, but they don't sink.
There are small holes called scupper placed in strategic places on the boat to ensure that the water gets quickly drained.
Are Sit on Top Kayaks More Stable?
Sit on top kayaks have a higher center of gravity and a more comprehensive design, providing a higher degree of stability.
These kayaks, typically made of high-quality polyethylene material, have large beams that help boost their stability.
The hull's enclosed design makes it unsinkable, keeping it more balanced while the paddler is sitting on top of the boat.
This excellent stability makes it perfect for fishing or recreational activities, even if you have kids or pets on board.
How Much Does a Good Kayak Cost?
Kayaking is a fun and popular watersport but not the cheapest.
On average, buying a kayak requires you to spend anywhere between $200 and $600.
Choosing a kayak depends on what you want or need, what activities you plan to do with it, and where you plan to use it.
An average beginner kayak generally costs between $200 and $350, which will usually last for several years than anything below this price range.
However, if you plan to use it temporarily, you can buy the cheaper inflatable types with prices lower than $100.
If you plan to buy fishing kayaks, expect to spend a little extra for a quality variety, which usually starts at $300.
The most expensive type is the touring or ocean kayaks.
These are long vessels made of durable materials that can withstand rough waters during long trips.
What Is the Most Stable Sit on Top Kayak?
It's challenging to choose the best sit on top kayak from our sit on top kayak reviews because they all offer unique features we all want in a boat.
In general, though, we like the versatility of the Perception HI Life 11.
From its price point, you have a kayak and a paddleboard in one.
On the other hand, if money is not an issue, the Wilderness Systems A.T.A.K 120 is the perfect choice for your recreational and fishing activity needs.
It's more than twice the price of our first choice, but it offers more functional features than the average type.