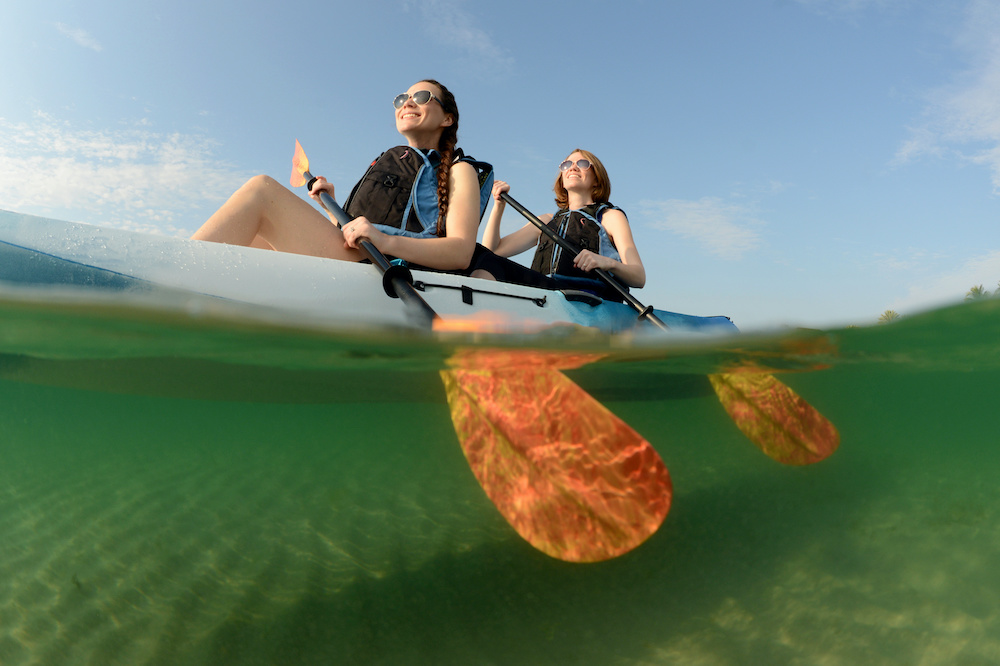 Best Kayak for Beginners in 2021: Complete Reviews With Comparisons
If you're considering taking up kayaking as a new hobby, we're here to help you in your search to find the best kayak for you.
Shopping online presents us with so much choice these days, and it can be challenging to know where to start.
There are many different types of kayaks; some are designed for speed, some for fishing, and others are nimbler for practicing whitewater kayaking tricks.
To find the best kayak for beginners, we picked five options that the most trusted brands offer.
Comparison Chart
Intex Excursion Pro Kayak
Pelican Sit-in Kayak Kayak
AQUAGLIDE Navarro 145 Convertible Inflatable Kayak
Oru Kayak Beach LT Folding Kayak
Sevylor Quikpak K5 1-Person Kayak
Best Kayak for Beginners: Brief Reviews
1. Sevylor Quikpak Kayak
Sevylor has been producing high-quality inflatables since 1948, both in the water sport and wider recreation market.
It has a fantastic reputation worldwide for providing portable, practical, and fun products at budget-friendly prices.
Review
The Sevylor Quikpak is an inflatable kayak that seats one person. And as the cheapest kayak on this list, it is a really great budget choice.
It comes with a carrying case that conveniently turns into the seat when inflated.
What's more, it inflates quickly, and multiple air chambers allow it to stay afloat even if one is punctured.
This kayak is constructed well using 24-gauge PVC for lake use; it won't be suitable for oceans or faster moving water.
It features spray covers to help you stay dryer when out on the water and several secure storage options for your gear.
Overall, we love the affordability of this kayak. It includes everything you need to get going, such as a carrying case, a pump, and a paddle.
However, if you want to take your kayak out on the river or ocean, you will be better off going for something more rugged.
2. Intex Excursion Pro Inflatable Kayak
With more than 50 years of experience in the market, Intex is a well-known brand across the globe.
Its product line features high-quality yet affordable kayaks designed for comfort, safety, and fun.
Review
The Intex Excursion Pro Inflatable Kayak, despite its name, is an excellent choice of kayak for beginners.
It seats two passengers with a total weight capacity of 400 pounds.
To ensure the comfort of the passengers, it has two comfortable bucket seats and two floor-mounted footrests.
It is also fitted with two integrated fishing rod holders and a removable and adjustable mounting bracket for your GPS or fishfinder.
If you enjoy fishing but don't like spending a fortune, this will be the perfect option for you. You won't find features like this in this budget price range.
It's made with really tough laminate PVC and a lightweight polyester core. This combo ensures it is resistant to sun damage, as well as impacts and scrapes.
Still, in the event of a puncture, the kayak comes complete with a repair patch.
The fact that this kayak is inflatable makes it ideal for taking on vacation.
It will be much easier to pack and transport down to the water's edge. You also get a carry bag with every purchase, as well as a lightweight aluminum oar.
The kayak boasts plenty of storage space for your gear in both the bow and stern, plus additional D-rings you can attach dry bags to.
The high-pressure inflation from the high-output pump makes it really rigid and stable.
You'll also love the spring-loaded valves that offer easy and fast inflation and deflation.
All in all, this kayak has many great features we were surprised to find in this price range, including fishing rod holders, handles, and grab ropes.
We also love the portability of this kayak, as well as the free carrying bag.
The problem is that you wouldn't be able to fit this kayak with a "skirt" to close it over, which would've helped to keep the water out.
If you're going to be kayaking in colder water or weather, this might not be suitable.
3. Pelican Sport Argo 100X Sit-in Kayak
This next kayak is from Pelican Sport, a company known for its impressive designs and manufacturing of kayaks, canoes, and more.
Pelican Sport is a Canadian brand committed to revolutionizing the market by providing durable kayaks at great prices.
Review
Unlike the kayak from Intex, the Pelican Sport Argo 100X carries just one passenger. It is also a hard-shell kayak.
Weighing just 36 pounds, it is much lighter than you'd think, allowing you to carry it to the water's edge with no problems.
As long as you have space for it in the back (or on top) of your truck, as well as somewhere to store it, you'll be just fine.
This kayak has excellent stability and features a very spacious cockpit, making it much easier to get in and out of.
Getting into a sit-in kayak can be a little tricky otherwise.
The seat is very comfortable with an ergo foam padded backrest and seat cushion. You also have adjustable footrests to suit your height.
You will find that it has a decent amount of storage, as well.
There's a hatch in the front, a rear tank well, a bungee cord, and a mesh cover to safely hold your gear in place.
You get a couple of extra convenient compartments to hold bottles of water and other items.
We are very impressed with the hard-shell construction of this kayak, which will provide you with years and years of use.
It is also very comfortable, especially compared to many others we've come across.
Sadly, you will have to buy a kayak paddle separately, which pushes the total cost of getting onto the water up a bit.
4. Aquaglide Navarro 145 Inflatable Kayak
Next, we have a kayak designed and manufactured by devout adventurers, Aquaglide.
This brand is focused on helping you get out on the water.
Its passion for watersports shines through in the premium products it produces, and this kayak is no exception.
Review
The Navarro 145 by Aguaglide is convertible to seat one or two people.
Because of this feature and many others, it is one of the most expensive options on this list.
We wanted to showcase a variety of kayaks to suit all budgets. Hopefully, the comparisons will be useful to show you what your extra money will get.
As expected, it comes packed with features, including plenty of storage (including dry storage), D-rings, a quick-release fin, a paddle keeper, and adjustable footrests.
This kayak is robust enough for rapid waters, so if whitewater kayaking is something you're interested in, this could be the right fit for you.
This kayak is another inflatable model and, weighing just 40 pounds, is easy to get to and from the water.
It is made with supremely durable and lightweight materials, including industry-leading drop-stitched floors and a hex shell-covered pontoon.
If you're looking for a two-person kayak suitable for all weather and water conditions, this might just be it, as you can also buy a zip-on deck if needed.
Unfortunately, it doesn't come with a pump or paddles, which means this pretty pricey kayak just got even pricier.
As a touring kayak, this model is also a little slimmer than others, so if you're a complete beginner, this may not be ideal for you.
Lastly, Aquaglide also offers a one-year limited warranty with each purchase.
For the level of investment, we're really disappointed that this kayak doesn't come with a pump.
5. Oru Foldable Kayak
Oru specializes in producing high-performance folding kayaks.
Its focus is on producing the most innovative and portable kayaks in the world.
What's impressive is that Oru promises to do this without compromising on durability or performance.
Review
Straight from the box, this origami-inspired, award-winning Oru kayak can be constructed in just under five minutes.
Oru has also designed a special carrying case for this kayak, making it easy to bike or hike around with.
Unfortunately, this carrying case is sold separately.
Although it's portable and compact when folded, it is surprisingly robust, even exceeding the US Coast Guard recreational vessel in tests.
Whether you buy the seaworthy or inlet edition, this remains the most or second-most expensive kayak on our list.
Still, it does come with a full-year warranty as well as a 30-day money-back guarantee.
If you have some extra cash and want something extra robust and portable, this may just be it.
All in all, there's no denying the portability of this kayak. And we're also amazed at how sturdy and durable it is.
The only setback is that the price is too high for more budget-conscious people. You'd also need to buy the carrying case and the paddle separately.
Is Kayaking Hard for Beginners?
One of the greatest things about kayaking is that it's pretty simple to take on.
Some of the skills may take a little longer to refine, but pretty much anyone can have fun paddling around, even on their very first try.
Do Kayaks Flip Over Easily?
Despite what you might think, kayaks are actually very stable in the water, especially when paddling on calmer rivers and lakes.
Recreational kayaks, in particular, are designed for stability and generally won't capsize unless you really try to flip it over.
There is a slightly higher chance of capsizing in faster-moving rivers and the ocean.
The kayak's width also contributes to its stability, so if you're worried about rolling your kayak, you should opt for a slightly wider model.
What Is the Best Size Kayak for a Beginner?
As a beginner, your best bet is to choose a recreational kayak that is usually between eight and 13 feet long.
Shorter kayaks will be easier to steer, but slightly longer kayaks will offer more speed.
A wider kayak is also a good option for a beginner, as it is less likely to capsize in the water.
Are Cheap Kayaks Worth It?
As with anything else in life, when it comes to kayaks, you should expect to get what you pay for.
As mentioned previously, if you're entirely new to the sport, a cheap kayak is well worth the investment to discover how much you enjoy using it.
However, the materials used for construction will usually mean you have to stick to slow-moving water and lakes.
Also, it might not last as long as more expensive models.
How Much Should I Spend on a Kayak?
This is a very tough question to answer, as it depends on how much money you have to invest.
Generally speaking, you should expect to pay anywhere between $300 and $1,000+, but you can find some cheaper models.
You'll also find some kayaks that cost a lot more than $1,000 due to their superior build-quality, extra features, and durability.
If you know you like kayaking and plan on using it quite a bit, it's worth spending a bit more for the extra comfort, durability, and quality.
However, if you're completely new to the sport, maybe stick to a cheaper model until you know you like the hobby enough to spend more.
What is the Best Kayak for Beginners?
Each of the five kayaks featured here offers the user something slightly different.
Still, our overall best kayak for beginners is the Sevylor Quikpak.
We love how affordable this kayak is. And for its reasonable price, it already comes with everything you need, including a paddle, a pump, and a carrying case.
While it isn't suitable for oceans and faster-moving water, it is fit for use in all weather conditions, thanks to its closed cockpit and spray covers.
All in all, we think that it represents fantastic value for money for beginners.