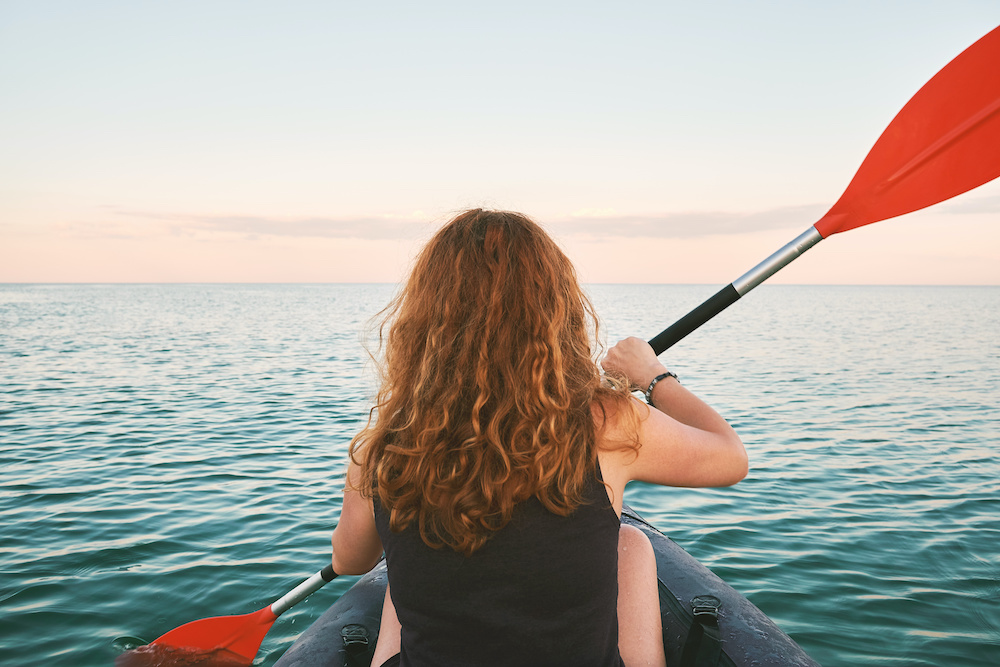 Best Kayak Paddles in 2021: Complete Reviews With Comparisons
If you enjoy being out on the water, a kayak is one of the best water vehicles you can possibly own.
Because your safety and satisfaction are at stake, it is not an easy purchase to make, as you will have to check out many choices to find the perfect fit.
In addition to the kayak itself, it would be best to consider getting only the best accessories.
Some kayaks come complete with a paddle, but often you will have to buy one separately.
Whether you are new to this or are just looking to upgrade, we will help you find the best kayak paddle that fits your requirements.
Comparison Chart
Pelican Poseidon 89-inch Paddle 
Backwater Paddles Assassin Carbon Fiber Paddle
ADVANCED ELEMENTS Ultralite Pack Kayak Paddle
Morimoe Kayak Paddle/Boat Oar
Pactrade Marine Double-Ended Aluminum Paddle
Best Kayak Paddle Reviews
1. Pactrade Marine Boat Canoe and Kayak Paddle
Pactrade Marine is a proud manufacturer of high-quality marine equipment and accessories.
To give every customer peace of mind, its experts are dedicated to providing excellent customer service at the same time.
Product Highlights
This Pactrade Marine paddle could very well be the best paddle for kayaking and canoeing, and for many reasons.
First, it measures 84 inches long, including the blades, which means it should work well for most people.
If you are tall and prefer a wider kayak for stability, unfortunately, this kayak paddle might be a little too short for you.
Even so, you will like that the shaft is made from high-quality anodized aluminum, which makes it durable, lightweight, and environment-friendly.
The shaft also features foam sleeve handles, making paddling easier and safer because your hands won't slip about as much.
The foam padding will also make the activity much more comfortable, with less chance for blisters to develop.
The shaft diameter is one inch, and the nylon blades measure 6.5 x 17 inches.
The shaft detaches into two pieces to make transportation easier. This feature also means you can use these same paddles for rowing a boat or a canoe.
The blades also feature a three-position system, letting you adjust how much the blades are feathered to suit the way you like to paddle.
Price-wise, this option is one of the cheaper kayak paddles here, so it is really fantastic to see so many adjustable features to suit your needs.
The Good
We really like how this paddle breaks down into two pieces, making it more versatile for use in other watercraft.
The three-position adjustable blades will also make it more suitable for a broader range of kayaking needs.
The Bad
The nylon blades will reduce your energy efficiency when out on the water, especially compared to fiberglass or carbon-fiber blades.
2. Morimoe Kayak and Boat Paddles
This next paddle comes from Morimoe, who manufactures and distributes a wide range of affordable and useful products.
Product Highlights
This paddle has a lightweight yet durable aluminum shaft and large blades that will make the most out of each and every stroke.
Like other kayak paddles on this list, this can also be broken down into two separate 48-inch oars, adding versatility for use in boats and canoes.
Better still, you can collapse the shaft further into four separate pieces and remove the blades, making it extremely compact.
This more collapsible design makes it much easier to pack in your car or carry with you when hiking and camping.
Once connected, it forms one longer 80-inch paddle for kayaking.
This is slightly shorter than the paddle from Pactrade Marine, which means it may also not be suitable for taller people or those with wider kayaks.
Compared to others, this paddle is the most affordable option on our list. So, if you're looking for a budget kayak paddle, this should be your number one choice.
It is also an excellent pick for beginner kayakers. If the kayak you bought did not come with a paddle, this is a great option.
The Good
More than anything, we love that this paddle collapses into such a compact size for traveling.
Also, it would be tough to beat its incredibly affordable price.
The Bad
Unfortunately, the blades are large. And while this will help you paddle faster, it will also add extra weight to the overall design.
3. Advanced Elements Ultralite Kayak Paddle
Advanced Elements is a company known for producing high-performance inflatable kayaks and accessories.
Its products are also known for their impressive quality and thoughtfulness when it comes to portability.
Product Highlights
The Ultralite kayak paddle features an aluminum alloy shaft and polypropylene blades.
Weighing 23.6 ounces, it is one of the most lightweight paddles on our list.
Combine this with the fact that it breaks down into four pieces and packs down to a compact 23.4 inches, and you get a paddle ready for any adventure.
The size and weight are ideal for easy storage and maximum portability, making it great for backpacking.
It is just over 88 inches in length when assembled, so it is an ideal length for most people, depending on the width of your kayak.
You also have the option to assemble the paddle using just three pieces.
Doing this may be better for you if you are slightly shorter or have a thinner width kayak.
A shorter paddle may also be better for whitewater rafting, offering more control and power.
You can refer to our sizing chart in the buyer's guide below to find your perfect kayak paddle length.
The Good
The weight and compact carrying design of this paddle are fantastic, and we love the adjustable shaft length.
The Bad
As with most kayak paddles in this price range, the plastic blades may be too flexible for you if you want maximum power and stroke efficiency.
4. Backwater Paddles Assassin Kayak Paddle
Designed by ex-US Navy Survivalist instructor Ed Halm, this next kayak paddle is a serious contender.
The blades feature an innovative design that is much sought-after by more experienced kayakers.
Product Highlights
The Backwater Assassin paddle is the most expensive kayak paddle on this list.
Its price will make it unaffordable for some people, but if you're serious about kayaking, you'll find that this paddle offers many more features than others.
It is available in two different lengths, both of which are adjustable.
You can choose between 90.5 to 94.5 inches or 98.5 to 102.5 inches, depending on which one best suits your needs.
Once you have chosen the perfect length, the fact that you can adjust it also offers more flexibility for use than others.
The paddle comes with drip rings, which help you to stay dry. This is an essential feature for kayaking in colder weather.
The blades are made from ABS injected nylon, so they remain extremely tough, even at very cold temperatures.
The blades also feature hooks that can help you grab your line, the dock, move a tree limb, or even help you reach for your waterfowl decoy.
On top of the hook, the blades also come with serrated edges that are handy for helping you launch yourself off solid surfaces.
This design choice can help you pick up speed a lot faster than usual.
Weighing 38 ounces (or 42 ounces), it is not the most lightweight paddle. However, if you are physically fit, the weight is well worth all the extra features.
The Good
We love the adjustable lengths offered by Backwater Paddles, as well as the hook and serrated edge of the blade.
The Bad
Unfortunately, the price of this kayak paddle will put a lot of people off.
5. Pelican Poseidon Kayak Paddle
Our final contender for the best paddle you can use for kayaking comes from Pelican.
Pelican is among the world leaders in the design and manufacture of kayaks and other water vehicles and accessories.
Product Highlights
This last kayak paddle is very reasonably priced when you consider the materials used for construction and the fact that Pelican is such a reputable brand.
The paddle is 89 inches long, making it ideal for most kayakers between five and six feet in kayaks between 28 and 32 inches wide.
The paddle shaft splits into two pieces for easier transportation.
You will also like that the aluminum shaft is slightly oval in shape, which many people find more comfortable to hold.
The paddle features drip rings, too, helping to stop the water from running down the shaft.
Again, this is a great feature to have when you are out kayaking in colder weather and water.
The polypropylene blades are reinforced with fiberglass, making them extra tough and durable.
Because the blades are extra-sturdy, they will help you propel through the water much faster and offer much greater energy efficiency.
The blades also allow the user to adjust the feathering from zero to a 65-degree angle. This means you can adjust it to suit your needs on any given day.
This kayak paddle is the only option here that comes in a choice of colors, so you might even be able to match it to the color of your kayak.
The Good
We love the quality of the blades on this kayak paddle. And we also think that the adjustable feathering will be an attractive feature to many people.
Lastly, we were amazed by the price, which we think is very reasonable considering the brand and build-quality.
The Bad
It is a shame that this paddle does not break down into more pieces like the others on this list. It would have made it much easier to transport.
Buyer's Guide
To find the best kayak paddle for you, there are a few considerations you should make when it comes to the length, materials, feathering, and storage.
We have discussed each of these factors below to help you understand how they will affect your paddle.
1. Paddle Length
Your paddle length will be determined by the width of your kayak and your height.
Refer to this sizing guide:
KAYAK WIDTH

23" to 28"

28" to 32"

Over 32"

Paddler Height

Recommended Paddle Length

Under 5'

82.6 inches

86.6 inches

90.5 inches

5' to 5'6"

86.6 inches

90.5 inches

94.5 inches

5'7" to 6'

86.6 inches

90.5 inches

94.5 inches

6' and taller

90.5 inches

94.5 inches

98.4 inches

2. Materials
Lightweight materials will increase your overall performance on the kayak.
Still, you should be aware that, generally speaking, the more lightweight the materials used, the higher the price of the paddle.
Cheaper plastic blades (polymer and polypropylene) are prone to cracking and sun degradation. Their flexibility also means that paddle strokes are less efficient.
Fiberglass blades are a decent mid-level choice. They may chip but very rarely crack all the way through. Their rigidity provides excellent efficiency in the water.
Carbon-fiber blades are usually the most expensive. However, they are also the most lightweight and rigid, offering the best energy transfer for each stroke.
3. Feathering
When buying a kayak paddle, you may also have a choice of matched or feathered blades.
Matched blades are set at the same angle on the paddle.
Feathered blades are offset at an angle to each other, offering less wind resistance when the blade is out of the water.
However, some paddles feature adjustable blades that allow you to set them straight, as well as a variety of feathered angles.
4. Portability and Storage
Another feature you may wish to consider is how easy the paddle is to travel with and store.
Some kayak paddles will break down into either two or four pieces.
If you are traveling or hiking with your paddle, the ability to break it down is incredibly useful.
It not only makes them much easier to transport and store but also means that the paddle is more versatile.
Often, you will be able to use your kayak paddle in two pieces, ideal for canoeing or rowing a boat.
For those that break down into more than two pieces, you may also have the option of using fewer pieces of the shaft when you assemble it.
This allows you to make the paddle shorter for different types of kayaking or make it more suitable for shorter kayakers to paddle.
Kayak Paddle FAQs
1. What size paddle do I need for a 10 foot kayak?
When it comes to recreational kayaks, it's best to choose a paddle based on your physical height and the width (rather than length) of your kayak.
Check out our sizing chart to find your ideal recreational kayak paddle length.
However, you should also bear in mind that you may want to opt for a shorter paddle than the table suggests for playboating and freestyling.
For river running, a slightly longer paddle may be more suitable.
2. What happens when you use too long of a paddle for kayaking?
If your paddle is too long, you will most likely end up overexerting yourself to keep the kayak on track and to build speed.
You may also have to shift your hands around more on the paddle, which could lead to blisters when paddling.
3. Do kayak paddles float?
If you are worried about dropping your paddle in the water, you may be wondering if it will float or sink.
The good news is that yes, kayak paddles do float.
The bad news? They tend to float a little slower than you and your kayak.
What this means is that if you drop your paddle into the water, you may find yourself floating away from it helplessly if you don't retrieve it quickly.
4. Should kayak paddles be offset?
The angle at which your paddle is offset should depend on how you like to paddle.
If you prefer longer paddles that allow you to keep your hands quite low, an unfeathered or matched angle will work well.
On the other hand, if you prefer shorter paddles for more power, a feathered angle of around 30 to 40 degrees will be more appropriate.
What Is the Best Paddle for Kayaking?
After reviewing five top-rated options, our overall winner as the best paddle for kayaking is the Pelican Poseidon Kayak Paddle.
The materials used in the blade construction are of a slightly higher quality than many kayak paddles in this price range, offering greater durability.
The Pelican Poseidon Kayak Paddle also allows you to adjust the blades to a variety of feathered angles.
We also like the addition of drip rings, which will come in really handy when kayaking in colder temperatures.
Lastly, it is also versatile, allowing you to use the paddle in two pieces for canoeing.
Unfortunately, it does not break down any further, but two pieces could easily strap to your backpack for hiking and camping trips.