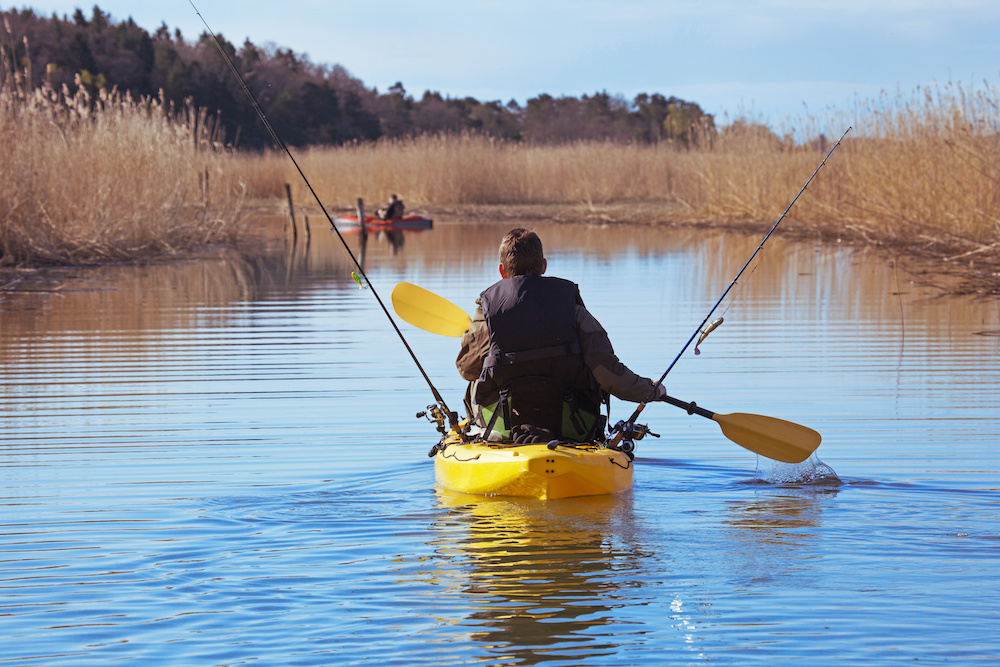 Intex Explorer K2 Kayak Review
Imagine yourself kayaking with your partner or a close friend in the transparent waters amidst tree-covered mountains.
The cherry on top is that you're riding a durable yet affordable kayak. After the ride, you can deflate it and continue trekking.
If you are an adventurer who likes kayaking in smaller water bodies, we've got great news for you.
This Intex Explorer K2 Kayak review will list down all the features of this sport series kayak.
The fact that it's lightweight means it can move to your desired speed, especially in casual competitions.
Intex Explorer K2 Kayak Review
The Intex Explorer K2 Kayak offers a comfortable ride thanks to its adjustable inflatable seats with backrest.
It comes with aluminum oars and a high-output air pump so that you don't have to spend extra cash on buying them.
Moreover, this sleek water vessel, featuring a bright yellow color and vibrant graphics, is designed for convenient paddling.
The good news is that the Explorer K2 is certified by the US Coast Guard and has its own USCG ID.
Who Is This Product For?
The Explorer K2 is an apt choice for two adults because of its safety and visibility in the water. It's quite sturdy, too, and has a maximum weight capacity of 400 pounds.
If you like kayaking in lakes and mild rivers, you will find that this is the perfect kayak for smaller water bodies.
It can be ideal for anyone who likes to spend time on a lake or river but doesn't necessarily want to spend a fortune on it.
With all the additional components and included carrying bag, the best thing about this sturdy kayak is that it remains unbelievably affordable.
The Explorer K2 comes with a rugged vinyl construction resistant to puncture.
Hence, it's also a good choice for someone buying their very first kayak and doesn't have any prior experience paddling.
Vinyl is well-known for its durability to withstand rust, corrosion, moisture, and abrasion. Therefore, this kayak is also suitable for wet climates.
Lastly, the I-beam floor adds to its stability, making it an apt choice for leisure paddling, fishing, and exploring.
What's Included?
The Explorer K2 comes with all the required accessories for kayaking, such as paddles, puncture patches, a carrying bag, and an inflating pump.
Other accessories include:
US Coast Guard ID with certification
Damage repair kit
Backrests
Two grab lines
On the downside, the paddle blades are relatively thin and don't provide enough energy transfer for each stroke.
The continuous wobbling makes them unsuitable for extensive paddling trips.
In other words, you might be better upgrading the accessories to higher-quality options.
Still, although the bag in which it comes in isn't of good quality, you can conveniently carry it in a shoulder bag, unlike hard-shell kayaks.
Furthermore, it is designed with heavy-duty handles on each side, allowing you to transport it to and from the water.
Overview of the Features
To decide if this inflatable kayak is the right choice for you, here is a quick list of some of its key features:
The fact that it's three-feet wide ensures it exhibits exceptional stability in calm waters.
In this way, it increases the area that comes in contact with water. Consequently, it results in a stable ride without any wobbling or flipping.
Don't consider that it will perform equally well in choppy waters, though. It is exceptionally lightweight, and even a little tide can push the kayak too far.
On the other hand, the kayak's light weight makes it convenient for you to maneuver it in lakes.
Additionally, you can achieve directional stability using a removable skeg installed in the kayak's base. This helps you remain in a straight line.
However, the Explorer K2 can track well in shallow waters without requiring the skeg.
On the downside, being an affordable, medium-quality kayak, it doesn't include a rudder system.
Instead, you can do the tracking with simple paddling.
This compact yet spacious kayak comes with two adjustable and removable inflatable seats.
These seats ensure comfortable kayaking for two to three hours. They come with Velcro straps to hold them in the right position during paddling.
Both the seats come with backrests and adjustable belts attached to the side chambers.
If you want to go kayaking alone, you can simply remove the back seat to enhance the seating space. You can even take both the seats out so that you can lay down in the cockpit.
As mentioned, it has a maximum capacity of 400 pounds. This is more than impressive, as it can carry two average adults and a dog as well.
Since you can adjust the seats, this means you can optimize the cockpit space accordingly.
In this way, you can also carry your camping gear in the cockpit since there isn't any storage compartment onboard.
Looking at the Explorer K2, the first thing you will notice is its vibrant color. It comes in bright yellow, helping to enhance its visibility even from a considerable distance.
Repair Kit and Air Chambers
It may get punctured or have holes over time, depending on the use. Don't worry because it includes repair patches to do the desired job.
However, it doesn't come with glue, so you may need to purchase it separately.
In addition to that, Intex has designed three separate air chambers to enhance protection to minimize risks of punctures.
This means you can return safely to the ground even if any of the chambers fails.
How to Get the Most Out of the Intex Explorer K2 Kayak
The Intex Explorer K2 comes in a relatively thin carrying bag together with all the other accessories.
To inflate the kayak, you will find five points through which you can pump in the air using the included high-output pump.
Start from point number one; it will take almost 10 to 15 minutes to go all the way to number five. This already includes the assembly time.
There is also a printed measuring scale on the chambers, letting you measure if the air pressure is right in the chambers or not.
For instance, high air pressure can damage the chambers, while low air pressure will affect the driving performance.
One issue is that you will have to operate the pump manually, which requires a little effort from your side.
On the other hand, deflating is relatively simple. You only need to remove the air plugs to deflate the kayak.
Afterward, you can simply fold it and keep it in your backpack, where it will occupy very little space.
Luckily, the deflated Explorer K2 is compact enough, allowing you to store it in its thin carrying bag.
Alternative
If you would rather go kayaking in seawater, opt for the Intex Excursion Pro Kayak instead.
Its super-rigid laminate PVC body can handle that much wear and tear. The 30-gauge vinyl material is laminated with a polyester core to enhance the strength.
You will also find that it has spring-loaded high-pressure valves for the air chambers.
Among the best features of the Intex Excursion Pro are the built-in fishing rod holder and the removable mounting bar.
Another distinguishing feature is its spacious storage space in the bow and stern, which even comes with stainless steel D rings.
It has enough space to keep all your gear and other accessories safe and secure.
Instead of one skeg (as in the Intex Explorer K2 kayak), the Excursion Pro includes two skegs for a safer ride and easy maneuvering.
Moreover, inflatable seats are no less than inflatable mattresses to ensure comfortable riding with adjustable backrests and footrests.
This versatile kayak comes with two removable skews for both deep and shallow waters.
Final Thoughts
The main idea of this Intex Explorer K2 kayak review is to emphasize this kayak's smooth tracking and easy maneuverability.
Indeed, it is the perfect choice for both beginners and professionals.
All you need is inflate it, which you can do in under 10 minutes, and begin kayaking right away.
When traveling and exploring different lakes in your area, you won't need to rent a kayak any longer.
Because the Explorer K2 is inflatable, you can carry it with you anywhere without feeling any extra burden on your shoulders.