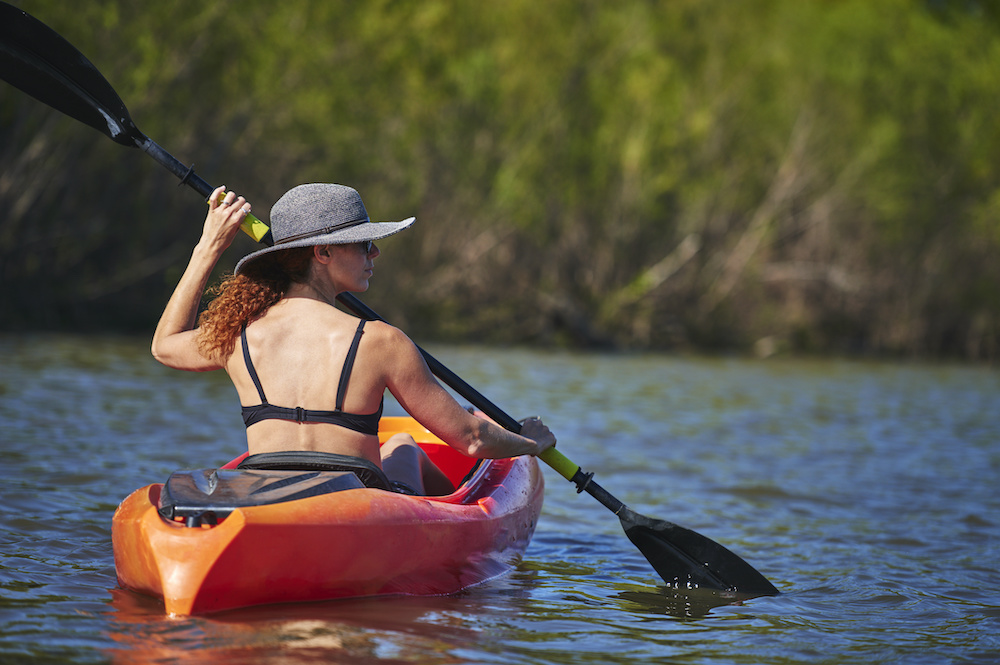 Advanced Elements Kayak Review
There's a multitude of kayak options on the market, and scouring through them to discover the 'yak that meets your needs can be overwhelming.
We've put together the Advanced Elements Kayak review in an effort to help cut your search short.
After all, there's a good chance you'll stop looking elsewhere when you discover what this amazing watercraft can provide.
The Advanced Elements Kayak is as tough as inflatable kayaks come.
Fitted with aluminum ribs, a super-comfortable interior, and a durable exterior, it's every kayaker's dream to take to the water.
But what else is this vessel capable of delivering? Read on to learn more.
Advanced Elements Kayak Review
One of the first things you'll notice about the Advanced Elements Kayak is how it provides great value for money.
It gives you all these great features for a price you would never have expected.
Then, there's the fact that it can all fit in one duffle bag, saving you storage space and providing excellent portability.
Who Is This Product For?
If you're looking for the best of both worlds in kayaking, then the Advanced Elements Kayak should be able to give it to you.
You can use it in whatever freshwater trip you plan on going on, whether it takes place on a lake or a river.
Expect this kayak to meet various kayaking needs while also fitting into the tiniest of storage with little effort.
So, if you'll kayak in all the ways possible, this is the vessel to take to the water.
It won't occupy too much space and is likely to fit how you want to experience the said activity.
That said, there are some limitations as to where you can bring the Advanced Elements Kayak.
Its manufacturer advises that it wouldn't be ideal to use in a river classified above a class II.
So, what classes of rapids can this kayak handle?
Class A:

A virtually undisturbed water surface with very little waves or riffles.

Class I:

Generally no obstacles but has a few tiny waves and riffles.

Class II:

Has more movement and, therefore, more excitement. Expect not only the presence of waves and riffles in the water but also obstacles like trees and rocks. A class II river may sound a little scary to some, but it's still within the rapid levels beginners can navigate.
Also, should you feel like kayaking in the ocean on one of your trips, the Advanced Elements Kayak is more than capable of handling that scenario.
What's Included?
With the Advanced Elements Kayak, you get a repair kit, foldable seat, and a duffle bag.
You might be surprised, though, that the set of accessories that come with the purchase won't include a paddle or pump.
You would need to purchase them separately.
Still, this isn't considered a drawback of purchasing the kayak because it already gives you so much value for its price.
We'd gladly take a high-quality kayak with no pump or paddles than a low-quality option that comes with the two accessories.
The kayak also has some add-ons, which should make you happy if they align with your goals.
First, there's the backbone, which is a beam with multiple sections that use the kayaker's weight to form a V-shaped hull.
Should you be looking to boost your kayak's speed and tracking abilities, this add-on might be worth getting.
A slight drawback to this add-on is that it requires insertion and removal each time you use your kayak.
The next add-on is the drop-stitch floor. This particular item allows inflatables to achieve rock-hard rigidity without turning spherical or losing shape.
Once placed within the cockpit, the drop-stitch is blown up.
That causes a backbone to form within the hull, making it track better while boosting speed.
It also forms a large buffer between the kayak and whatever is lurking underwater.
So if you suddenly find yourself on top of something, that potentially dangerous "something" won't end up impaling the kayak.
Unlike the backbone, you shouldn't have to remove the drop-stitch with every use.
That said, you do have to inflate and deflate it after each kayaking session.
Overview of Features
Here are some of the features that make this all-around kayak stand out:
One of this inflatable kayak's cool features is a valve located on the floor that prevents overinflation.
This is a plunger valve of military-grade that allows you to pump a higher volume of air into the kayak at any time.
Part of what makes this feature unique is that it keeps air from going out even when the hose disconnects.
It also makes deflating easier. You just have to depress the center swing and rotate until it locks in place.
The coaming or inflatable rim surrounding the cockpit allows you to attach a spray skirt (purchased separately).
This adds a barrier between the kayak's riders and the water, keeping both the cockpit and users dry.
When water lands on the skirt, it'll just trickle all the way back into the water.
You'll see no scupper holes on the kayak, so there's no way for it to drain water that makes it inside.
As such, inflatable coaming can be very helpful for keeping the water from dripping paddles.
Rougher rivers also stretch from building up in the cockpit.
Also called the bungee deck lacing, the deck rigging is something you can use for storing basically anything that fits under it.
It's located right on the kayak's bow, allowing you to access anything stored there easily.
From the name itself, this fabric is rip-resistant. Even when a rip starts to form, it'll still have a hard time tearing all the way through.
With this feature, you can help keep the side of the kayak from getting scraped or punctured.
This is an addition you can't help but admire, particularly if you're planning to inflate the kayak near your vehicle and carry it to the edge of the water.
You can grip these molded rubber handles without causing the least bit of discomfort to your hands.
Your watercraft becomes more reliable because of this feature.
Compared to glue seams, which some of the cheaper kayak's usually have, welded seams have super-reliable sealing that is a lot less likely to pop leaks.
It's always great to have a backrest that you can adjust now and then.
With the Advanced Elements Kayak, you get a vessel with a super-comfortable adjustable backrest that allows you to vary your positioning.
It helps prevent unnecessary strain on your neck, shoulders, and back when you paddle for long hours.
The bow and stern on this kayak achieve a harder edge because of the presence of aluminum ribs.
It can then cut through the water while maintaining shape, giving you better speed and tracking.
How to Get the Most Out of It
The best thing about the Advanced Elements Kayak is that it can deliver in any scenario.
Wherever and however you plan on going kayaking, this vessel will help you make the best out of the experience.
Since this boat is so versatile, you might want to explore the many ways to go kayaking when you own one.
Don't limit yourself to lakes or rivers or to the traditional kayaking approaches you've been taught; try to innovate and explore newer methods, too.
The Advanced Elements Kayak should let you do all these things and more.
Of course, make sure to put safety above all else in any scenario.
Alternative
This Advanced Elements Kayak review introduces a more affordable alternative to the featured kayak in the form of the Airhead Montana Two-Person Inflatable Kayak.
Airhead Montana Two-Person Inflatable Kayak
Here are some of the reasons you might love this vessel just as much:
Like its pricier counterpart, the Airhead Montana Inflatable Kayak is also great for several kayaking scenarios.
You can use it for camping, exploring remote places, vacationing, and cruising.
It also works as well for seawater kayaking as it does for freshwater explorations.
One of the best things about this kayak is that you can practically carry it with you anywhere.
It's lightweight and compact, making it incredibly easy to transport from one place to another.
And yes, you won't have any trouble carrying it to the water's edge after inflating it near your car, either.
Conclusion
Make the most out of your kayaking experience by getting a high-quality kayak.
The Advanced Elements Kayak's features are nothing short of impressive.
Not only do they make the kayak more comfortable, but they also give it more agility as well as tons of other uses.
On top of that, they keep it stable and durable enough so that you don't have to worry about the kayak faltering on your more "exciting" trips!