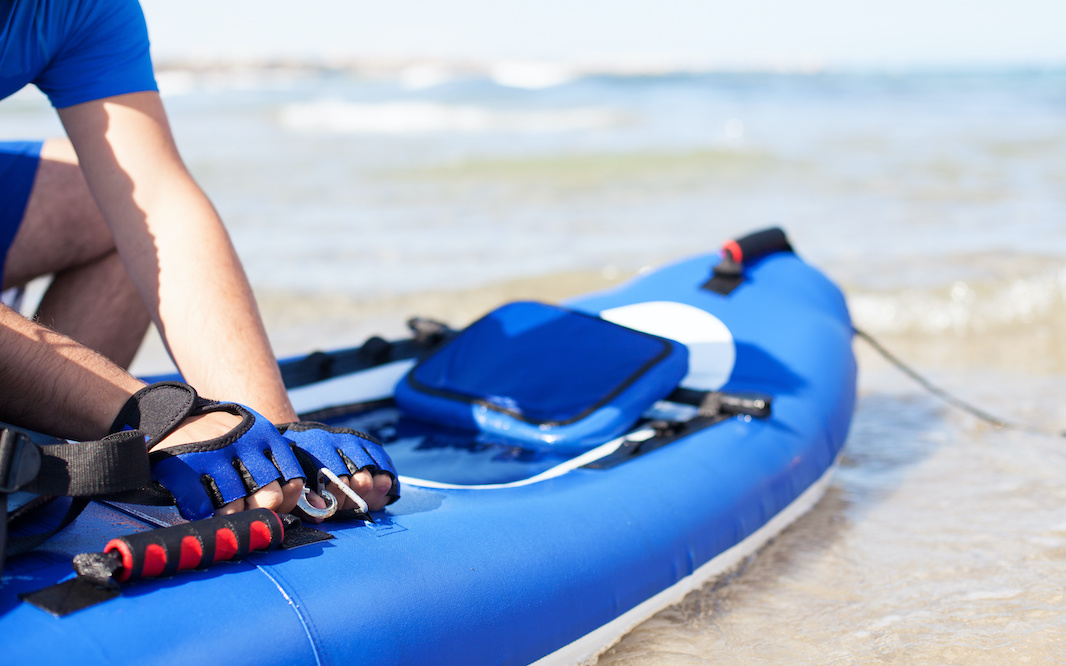 Best Inflatable Kayaks of 2021: Complete Reviews With Comparisons
Kayaking is a great way to spend your free time in the peace and tranquility of the outdoors.
It is a low impact sport that improves cardiovascular fitness and flexibility.
What's more, it is suitable for all ages and body shapes.
Kayaking is also a relatively cheap hobby to take part in if you live near the water.
For those living farther away or short on storage space, an inflatable kayak is a perfect option.
We decided to review some of the top rated inflatable kayaks on the market to find the overall best inflatable kayak today.
Comparison Chart
Intex Explorer K2 Kayak
Sevylor Quikpak K1
ADVANCED ELEMENTS Convertible Inflatable Kayak
Intex Challenger K1 Kayak
Sevylor Big Basin 3-Person Kayak
Best Inflatable Kayak Reviews
1. Intex Explorer K2 Kayak
The first option we chose to feature in our inflatable kayak reviews is one from Intex.
This two-person inflatable kayak set comes with aluminum oars and a high-output pump from the same brand.
For over 50 years, Intex Recreation has provided a wide range of high-quality water-related equipment at affordable prices.
Product Highlights
This first blow up kayak from Intex is designed with comfort in mind.
The cockpit has adjustable and inflatable seating, making it perfect for all body shapes and sizes.
It measures 10"3 x 3" x 1"8 and can carry two people weighing up to 400 pounds.
Its bright color makes it easy to spot should you need emergency assistance.
The product is designed for smaller bodies of water, making it a good choice for beginners to the sport.
A nice additional feature is the removable skeg.
You don't necessarily need it, but when using the skeg, it is possible to achieve more advanced directional stability.
The fact that it is removable gives you the option of using it and can also make it easier to store the kayak.
The kayak also has a handle at the front of the craft so that you can remove it from the water quickly and easily.
A rope around the front also means you can tie and secure it in place.
In the last 10 years, Intex has worked with suppliers to decrease their carbon footprint, putting sustainability at the core of the company vision.
We really appreciate companies that care about the planet in this way.
Lastly, Intex also has an outstanding reputation for customer service.
The Good
We like the price of this kayak. It's so affordable that it's an excellent option for almost everyone.
The Bad
This kayak is only suitable for small and medium-sized water areas.
If you and your kayaking partner are both tall, you may find this kayak a little cramped for leg space.
Plus, some customers also felt the paddles supplied were too short.
2. Sevylor Quikpak K1 Kayak
Launched in 1948, Sevylor has been providing high-quality and affordable inflatables for the watersports and recreational market.
Sevylor quite often pops up in the best inflatable kayak reviews and is a popular and trusted brand.
Product Highlights
The Sevylor Quikpak K1 is one of the quickest blow up kayaks to be set up.
It has double-lock valves that use two locking points for easy inflation and deflation.
All it takes are five minutes to construct, and it's ready for use on the water.
This is a fantastic feature for ensuring you get to spend the maximum amount of your time kayaking rather than preparing the kayak.
It comes packed in a nice, easy-to-carry backpack system, making it efficient to carry from your transport to the water launch area.
The backpack system then converts into a seat for your kayak, which is great because it means not having to walk back to your car to store it away.
Once in the water, the backrest reclines, letting you lean back and enjoy the ride to the max.
The multi-position footrest also allows you to find your most comfortable position no matter your leg length.
This kayak is not only built for comfort, but it's also a very durable product.
The 21-gauge PVC construction, combined with tarpaulin bottom, makes it less susceptible to punctures.
The kayak is also constructed with multiple air chambers.
This means that there are additional chambers to keep you afloat in the unlikely situation you experience a puncture.
The airtight system is guaranteed not to leak, too, which is very reassuring.
There is secure storage built into the design, meaning you can take plenty of supplies and valuables for your trip.
The overall tough construction of this kayak makes it perfect for more rugged terrain.
The Good
What we love the most about this kayak is its easy-to-carry backpack system and the five-minute setup, allowing more time on the water.
The Bad
This kayak is a one-man (or one-woman) kayak.
This means no opportunities for sharing the water experience with a friend or a loved one.
Some also felt that it deflated a little when they were in the water.
3. Advanced Elements Convertible Inflatable Kayak
Advanced Elements is a Californian company focused on all things related to paddlesport, manufacturing many top rated inflatable kayaks.
They pride themselves on their unique and innovative designs and their high level of customer service.
Product Highlights
This kayak has the most superior and flexible components of all the options reviewed.
Some of the additional features not found in other kayaks include built-in aluminum ribs.
These ribs define the bow and stern construction, meaning you have much more advanced tracking than the other kayaks on the market.
This is especially useful on longer journeys, as the tracking will help you stay on the course more easily.
This kayak is pre-assembled at the factory, which means it's effortless to prepare once you are at the water's edge.
All you need to do is to unfold the kayak, inflate it, attach the seats, and you're ready to go!
This product comes with some excellent flexible features, too. For one, you can build and adjust the kayak to your personal needs.
There are three seating locations for the two seats. You can opt to paddle solo or arrange the seating for two, however your mood takes you on the day.
Both of the seats are padded and adjustable, offering a lot of back support so that you can paddle for hours in comfort.
Finally, this kayak is constructed for uncompromising durability.
The PVC tarpaulin material is incredibly puncture-resistant.
This is because it uses three layers of a polyester fabric sandwiched between two layers of vinyl.
It also comes complete with a carrying bag to help you get where you are going with ease.
The Good
In a nutshell, this is a very durable and compact kayak with superior navigation qualities.
We love how the aluminum ribs enhance speed and tracking.
The Bad
Unfortunately, this kayak is a lot more expensive than the others on this list.
Hence, it may not be in everyone's budget.
Some also said they had problems balancing their body weight across the kayak and needed to make adjustments.
4. Intex Challenger Kayak Series K1 Kayak
This is the second kayak from Intex we have chosen to include in our best inflatable kayaks list.
This time, it's from the Challenger series.
It is a little more expensive than the other Intex kayak and can only accommodate one person.
Product Highlights
This kayak is perfect for moving speedily through the waterways.
It is constructed from a durable welded fabric for maximum strength, and it features grab lines around the boat for easy movability in and around the water.
It is brightly colored with an eye-catching exterior, making it the more aesthetically pleasing kayak on our list.
The cockpit is definitely designed with comfort and space in mind.
You will find an inflatable beam floor, which adds stability to your ride, and the seat is inflated with a comfy backrest.
If you run out of space to store your belongings, there is an external cargo net where you can put your gear and have easy access to it.
This kayak comes with all the useful accessories you need, including a high-quality 84-inch aluminum oar.
There is also an emergency repair patch and manual hand pump included in the kit.
Weighing just 27.2 pounds, this lightweight inflatable kayak is easy to throw in a backpack to transport to the water's edge.
The Good
We love how lightweight this product is, which makes it much easier to transport.
The Bad
Some felt that the seat can be uncomfortable when over-pumped. It also sits a bit too high in the water.
5. Sevylor Big Basin 3-Person Kayak
Our final best inflatable kayaks contender is another one from the Sevylor brand.
This is a three-person kayak that demonstrates the diversity of their product range.
Product Highlights
This kayak is perfect for rugged lake trips with its heavy-duty PVC construction.
Like the Sevylor Quikpak K1, it also has multiple air chambers to keep you afloat should one chamber become punctured.
However, that's very unlikely, too, as it has a reinforced tarpaulin base that acts as a durable barrier against punctures.
This kayak also has an airtight, leakproof system and Boston valve for easy inflation and deflation.
The Sevylor Big Basin prides on its ability to fit all shapes and sizes with its adjustable seating system.
With three seats in total, you can easily fit all three or customize your ride to one or two people as you need to on the day.
It also features spray covers, which block water splashes as you glide through the water.
This is an excellent feature to have in colder waters to keep you dry. It is also handy for keeping your gear a lot dryer.
The Big Basin is an NMMA-certified kayak that can carry the heaviest load of 490 pounds.
For its additional features, including the fact that it can seat three people, it has a pretty reasonable price.
The Good
This family-size kayak is made from heavy-duty PVC, making it one of the more durable options today.
It is perfect for the most challenging lake experiences, too.
The Bad
Unfortunately, some have experienced problems in trying to buy replacement parts.
Buyer's Guide
If you're buying a kayak for the first time, whether it's inflatable or otherwise, there are a few factors you need to consider.
Read our guide below before making your purchase to ensure you're investing in the right kayak for your needs.
1. Sit-On or Sit-In?
Choosing between a sit-on or sit-in kayak is one of the first considerations you should make.
Generally speaking, sit-on kayaks are more user-friendly, making them better for beginners.
They are also great for kayaking in warmer weather.
With a sit-on kayak, you can easily slide into the water for a swim.
This is because they are much easier to get back into afterward.
Due to the lower center of gravity with a sit-in kayak, they tend to be slimmer, faster, and easier to maneuver overall.
You can also buy enclosed sit-in kayaks, which are much preferred for colder water and weather conditions because you will stay a lot dryer.
2. Size
Aside from the type you want and need, you will also have to consider how big you want your kayak to be.
Whether you want an extra chair or two for passengers is one thing, but also consider if there is space in the kayak for your gear.
If you are fishing or exploring and camping, then you will need enough space and secure storage for everything you need.
Look out for robust D-rings you can attach drybags to, as well as elasticated netting or bungee cords that will strap your stuff down securely.
3. Portability
Portability is pretty essential, especially because this is one of the main reasons people opt for inflatable kayaks over traditional hard-shell kayaks.
How portable is the kayak, and how are you going to carry it?
Some inflatable kayaks come with their own carrying bag or backpack that make them ideal for transporting.
This is also when you should keep in mind its overall weight.
Is it lightweight enough that you can carry it from your vehicle to the water?
4. Durability
Buying a durable inflatable kayak will ensure you get the best use out of it, so look out for good-quality materials and construction.
You don't have to spend a fortune to get a robust, long-lasting inflatable kayak; you just need to know what to look for.
Then, make sure you look after it according to the manufacturer's instructions to prolong its lifespan.
5. Shape
As with a hard-shell kayak, the shape of your kayak can do a lot to determine your paddling performance.
Longer, narrower kayaks will be faster and have better directional stability.
In contrast, shorter, wider kayaks will be slower but more agile.
Flat-bottomed kayaks will also be slower against V-shaped hulls, which offer the best paddling performance.
However, V-shaped hulls can be slightly more prone to tipping, so we wouldn't recommend them for beginners.
6. Extra Features
Other features that may influence your purchase include a removable skeg or fin that will help you stay straight in the water and with steering.
On still bodies of water, you probably won't need one, but you may appreciate it more when out on slightly rougher water.
Having said that, if you are planning on taking your kayak on longer-range journeys, a skeg will be a great help to keeping you on course.
Also, if you are kayaking in colder weather and buying a sit-in kayak, some models have splash guards that will help keep water out of the kayak.
If you have an enclosed sit-in kayak, then this won't apply. But splash guards are really handy for helping to keep your gear dry, as well as you.
Inflatable Kayak FAQs
1. Are inflatable kayaks worth it?
Inflatable kayaks are definitely worth considering if you are in the market for a new kayak.
The quality of an inflatable kayak can vary greatly, though, so it's no wonder you may have heard negative things about it.
Still, many improvements have been made to inflatable technology over the last few years, allowing the standard for inflatable kayaks to rise sharply.
In fact, it is not uncommon to see water rescue teams and outdoor experts out on the water in inflatable kayaks these days.
Inflatable kayaks are safe, durable, and reliable.
They can be just as good as a traditional kayak, but with the added benefit of being more easily transported.
If you are worried about punctures, then watch out for a multi-chamber air system that allows you to stay afloat even if one cell punctures.
When that happens, make sure you have a repair kit on you, get back to shore so that you can patch it up, and then you're good to go again!
2. How long do inflatable kayaks last?
The lifespan of your kayak will depend on several factors.
The most significant ones are the durability of the materials used in construction and how you maintain and take care of it.
With proper care and maintenance, you can expect your inflatable kayak to last you anywhere between five and 10 years.
3. Where should you sit in an inflatable kayak?
Kayaks will perform best when loaded evenly.
Hence, if you are paddling solo, you should try to sit as centrally in the kayak as possible.
If there are two or more of you, try and arrange the seats so that the weight is distributed evenly in the kayak.
4. Do inflatable kayaks flip easily?
Inflatable kayaks don't flip any more easily than hard-shell kayaks.
In fact, more often than not, inflatable kayaks have wider bases than traditional kayaks, making them even sturdier and even less likely to flip.
5. Can one person use a two person inflatable kayak?
Yes, you can usually move the seats around in tandem inflatable kayaks.
This means you can remove one entirely if you don't plan on using it.
This is one massive advantage that inflatable kayaks have over their hard-shell counterparts.
Just remember that when you put the single seat in the tandem kayak, you need to load your weight evenly.
To do this, remember to put your seat in the middle of the kayak for the best performance and balance.
Which Inflatable Kayak Is Best?
Having compared the pros and cons of the five kayaks listed earlier, we found that the best inflatable kayak is the Intex Explorer K2 Kayak.
We feel that the Explorer K2 is a good all-rounder, and with its low retail price, it is also affordable for everyone.
The kayak is constructed to high standards and has received really great feedback from many customers.
What's more, at this price-point, it is really surprising to find a kayak with a removable skeg.
This makes it suitable for beginners or more experienced paddlers alike.
There are also many other features that make it really user-friendly, such as the grab rope and handle to get the craft in and out of the water.
This inflatable kayak is an excellent alternative for paddlers who don't have space for a structured, hard-shell kayak.
Finally, we love Intex's dedication to decreasing its carbon footprint, too.
After all, this sport is all about experiencing and appreciating the great outdoors for many years to come.