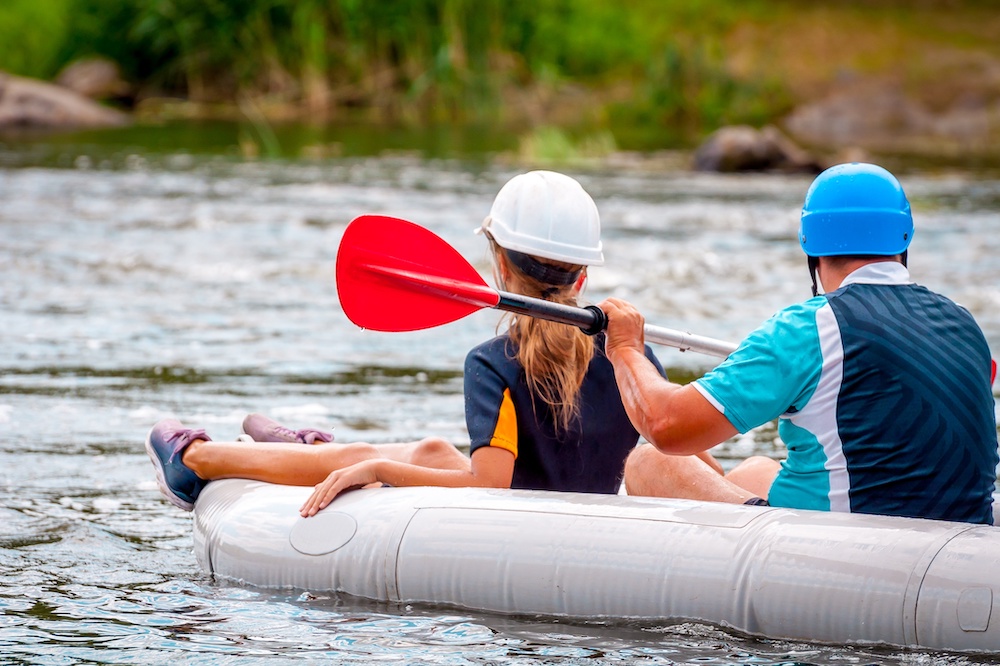 Oru Kayak Beach LT Review
Planning to go kayaking?

To fully enjoy a relaxing day on the water, your kayak's durability should be far from your worries.

For that, you want a reliable kayak like the Beach LT.

The best thing about this kayak is that it folds down to a compact size, allowing you to take it with you on your adventures.

In this Oru Kayak review, we'll list down all of its impressive features and how it can elevate your experience as you paddle through lakes, rivers, and even the beach.
Oru Kayak Beach LT Review
Based in San Francisco, Oru Kayak is a relatively young company launched in 2013.
Since then, it has gained plenty of media coverage, especially after its appearance on Shark Tank.
The Beach LT is the perfect choice for leisurely kayaking in calm waters, thanks to its innovative origami-inspired foldable structure.
What's more, it comes with a one-year warranty and a 30-day money-back guarantee to ensure safe investment.
Who Is This Product For?
If you enjoy kayaking but worry about how to store and transport it, the Beach LT is the kayak for you.
Measuring 30 by 30 by 15 inches when folded, you can easily fit this kayak in your car's trunk, as well as find a place for it in your garage.
You'd like that it weighs only 40 pounds, which is still pretty lightweight for a kayak.
Oru Kayak offers a heavy-duty nylon carrying bag if you need a separate bag to put the kayak in, especially if you wish to take it with you on a plane.
All in all, if you like traveling and exploring new grounds (and waters), the Beach LT would be a great adventure buddy you can take with you.
What's Included?
The Oru Kayak Beach LT comes with all the necessary accessories to allow you to begin paddling right away.
You will find it has an adjustable backrest, footrests, bulkheads, and bow and stern carry handles.
Unfortunately, you may need to buy the Oru Kayak paddles separately. Don't worry; you can break the paddles into four pieces for convenient storage.
Also, you may have to invest in protective kayak packs to level up the storage and protection while traveling.
Since it's foldable, not inflatable, you won't need a pump to assemble it.
Overview of the Features
Excited to find out if this is the kayak you are looking for? Here's a more in-depth look at its features to help you decide.
Foldable, Origami-Style Construction
Of course, this kayak's best selling point is the fact that it folds down from 12 feet to a mere 30 inches.
Because of this innovation, you can easily take the Beach LT with you anywhere you want to go kayaking.
You can rest assured that you'll enjoy its services for years, too, as it can last for up to 20,000 folding and unfolding.
It comes in only one colorway, white with orange accents. This combination helps increase visibility in the waters.
The Oru Kayak Beach LT is made of a 5mm double-layered polypropylene sheet, which is hard corrugated plastic.
This is what makes this kayak lightweight, buoyant, and bendable.
In addition, you don't need to worry about it not surviving a short drag in shallow waters over submerged objects, like logs, plants, rocks, or sticks.
When unfolded, this kayak measures 12 feet by 28 inches, and you can either use it as a tandem kayak or as a single-seater.
Keep in mind that the maximum weight capacity is limited to 300 pounds, though.
In the case of a single-seat setup, you can find a place for all your gear and snacks for a solo fishing trip. There's even plenty of room left if you want to bring a dog.
Because it's lighter and thinner than most other kayaks, you can easily maneuver and track the Beach LT in the calm waters.
This low-riding narrow boat ensures a stable and comfortable ride with its real cushion seats.
In addition to that, you can adjust the backrest to change your sitting posture while paddling or relaxing.
You can also adjust the foot braces to find a balanced position to paddle.
The Oru Beach LT is perfect for handling both flat water and large waves. This is thanks to the large cockpit that cuts through the waves and glides through all kinds of waters.
The spacious cockpit also provides storage space to place your additional items without jamming things into nooks or crannies.
You just need to place them in dry bags to prevent them from getting wet.
On the downside, if the waves breach the boat's hull, you'll end up sitting in a puddle in no time.
It doesn't include any scupper hole to drain the water back out.
How to Use the ORU Kayak Beach LT
One of the features that distinguish the Oru Kayak Beach LT from the rest is its convenient set up within five minutes.
It comes in a simple box-looking package with an extra carrying strap that doesn't become a part of the kayak.
To facilitate the assembly process, you'll appreciate the clear and concise instructions included in the package.
However, attaching the cushion seat is a bit trickier than unfolding the kayak itself.
The bottom support post of the seat connects to the orange floor. On the other hand, the post on the seat's back goes into sockets on the gunnels.
The adjustable straps go forward to adjust the seat's tilt.
In this way, the support post goes backward while the seat adjustment post pulls the seat forward.
Adjusting the seat may sometimes pull the support bar out of the sockets.
You'll like that you don't need to wait for it dry after coming out of the waters. All you need to do is to unclip and flip it.
Don't worry if some sand sticks to the hard surface of the polypropylene, as you can easily wipe it off with a cloth or even your hand.
After unclipping and flipping it, attach the carrying strap to the metal brackets on the bottom corners.
These metal brackets save the boat's corners from any potential harm in accidental bashing against rocks.
Here's an Oru Kayak review video that shows a glimpse of how to fold and unfold this origami-inspired kayak.
Alternative
After reading this Oru Kayak review, you might think that the Beach LT is not the right choice for you.
If you find the seating too tight, you can opt for the Bestway Hydro-Force Koracle Kayak instead.
The Hydro-Force technology features drop-stitch bottom construction to resist puncture.
It also uses three-ply reinforced material encased in two layers of PVC to its overall add durability.
You can conveniently switch the air hammer between inflation and deflation.
It comes with a quick-release valve to guarantee a secure seal with proper PSI and hassle-free takedown.
Basically, it features a wide-opening cockpit with an adjustable seat. In addition to that, the backseat provides extra lumbar support.
It can accommodate one person and has a maximum weight capacity of 400 pounds.
The four footrests can accommodate riders of different heights.
There's also a wraparound grab rope surrounding the exterior for convenient transportation. Consequently, you can also tie it up to a dock or an anchored spot.
Remove the fins if you want to glide through the water while enjoying directional stability.
This smart kayak arrives with a double-sided paddle, too. It also comes with built-in oar clasps, fishing rod holders, and storage compartments.
The oars are made of aluminum to keep them lightweight and manageable.
You will also receive a complete fishing set, which includes incorporated fishing rod holders to keep the lines in the water while you relax.
Final Thoughts
The main goal of this Oru Kayak review is to highlight Beach LT's space-saving design and high-end performance.
Not only that, but you can also utilize its storage space to keep your belongings safe and dry while on the water.
Our sincere advice is to invest in a foldable kayak instead of frequently renting if you are an angler or an adventurer.
The best thing about this design is that you can easily find a place for it in your garage whenever you're taking a break from your adventurous rides.