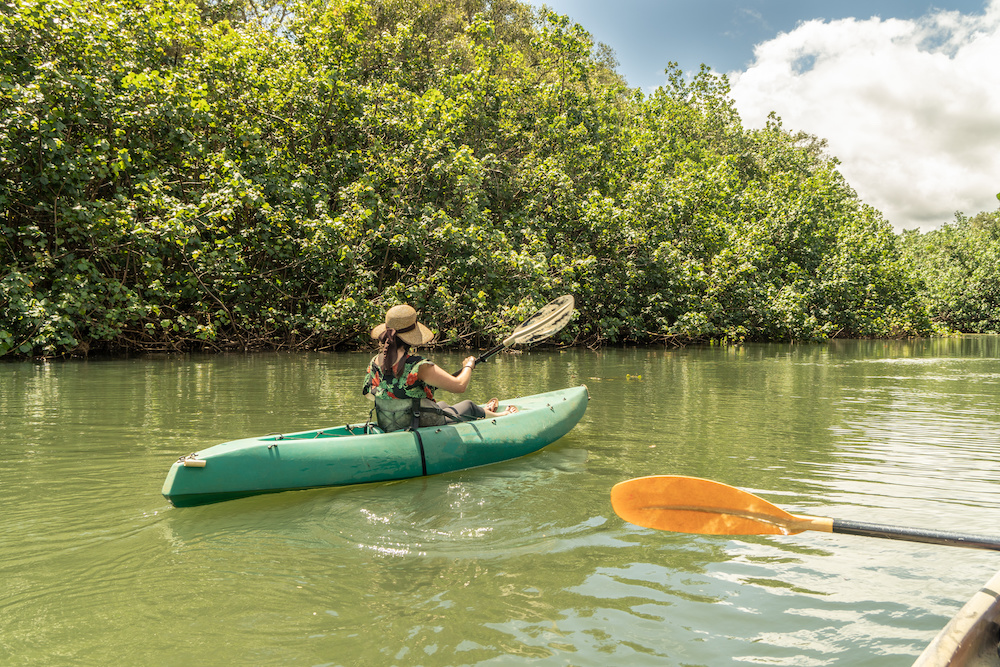 Journey 10 SS Kayak Review: A Sun Dolphin Product
More and more anglers realize that sit-on-top fishing kayaks are a great way to get on the water.
For this reason, the market is now crowded with hundreds of different models.
We understand that comparing the many options available can be an overwhelming task to start.
What do you need to consider when looking at the many great fishing kayaks available?
This comprehensive Journey 10 SS Kayak review will tell you what you need to know about this Sun Dolphin fishing kayak.
Find out if this will be the right option for your angling or if you need to keep looking for something else.
Journey 10 SS Kayak Review
The Journey 10 SS is a mid-range sit-on-top fishing kayak that offers a great blend of quality, value, and accessory.
More than anything, it is designed to accommodate those who want to fish while kayaking.
What features does it have that regular kayaks don't? Will these features be enough to accommodate your requirements?
With this Sun Dolphin kayak, you will have exactly what you need to go fishing and kayaking without much trouble.
Who Is This Product For?
Experienced in fishing or kayaking and want to do both at the same time? The Journey 10 SS can help make that happen.
What's great about this is that there is no need to be a pro at either one (or both) for you to be able to use this sit-on-top kayak.
Instead, simply trust its high-quality, lightweight, and well-outfitted design to get it all done for you.
It is easy to learn how to use this setup even as a beginner to either sport.
And if you find that it is not as easy, consider that learning curve as part of the fun.
This product is also best for those willing to invest a little bit in a high-quality piece of equipment.
Those looking for a very cheap option will want to look for something else, though.
Only get this kayak if you are certain you will use its features to their potential.
What's Included?
This kayak is already outfitted with the bare-minimum accessories needed to go fishing with it.
It includes a P.A.C. (portable accessory carrier) as well as two flush-mount and one swivel-mount rod holders.
These accessories let you get set up and go fishing as soon as possible.
Overview of the Features
This Sun Dolphin kayak is a great option for anglers (beginner or not) hoping to get out and on the water while they go fishing.
Ideal for lakes and rivers, you can reach new fishing spots you haven't been to before with this sit-on-top fishing kayak.
It is designed to be lightweight and easy to carry.
You will also find that it has retractable handles to make it easier to move to and from the water.
Measuring in at nine feet and six inches, it can carry around 250 pounds of max weight. You can also choose a bigger size if you want.
This kayak is pre-outfitted for the angler.
You will find that there's a portable accessory carrier, two flush-mounted rod holders, and one swivel fishing rod holder already in place.
The sitting area is very large and open, and it even has a padded seat that helps keep your comfort up while fishing all day.
There are also adjustable foot straps so that you can customize their placement and make sure you are as comfortable as possible.
While it will take some time to get used to using it if you're a beginner, you will get used to it soon.
How To Use a Sit-on-Top Kayak
Learning how to use a sit-on-top model for the first time can be confusing when you are used to another type of kayak.
However, many popular fishing spots where you might want to kayak have high docks that aren't intended for water entry.
How do you get into the water at these docks? If the dock is low enough, here's what you should do:
Put the kayak in the water next to the dock.
Sit on the dock parallel to where you will sit in the kayak.
Put your weight on your hands behind your body, and move your feet into the boat.
Keep your weight balanced between your hands and feet as you move over to the boat.
In one motion, move your body into the kayak.
Keep your hands on the dock for as long as possible to help keep you stabilized as you move.
These steps will take practice to get right, but you will get used to it in time. You can also try to do beach launches rather than dock launches.
Experiment with both to see what is the best for you and your gear.
Alternatives
While many anglers like sit-on-top kayaks, they aren't for everyone.
Check out the Sun Dolphin Excursion if you want to try a sit-in kayak instead.
It is a well-equipped kayak for those who want to be a little closer to the water. This kayak type lets them feel more stable and move more quickly.
Another alternative for those who aren't sure they want to commit to fishing kayaks is this Lifetime Hydros Angler Kayak.
While an affordable option, keep in mind that it will require some additional accessories.
Is the Journey 10 SS the Kayak for You?
This Journey 10 SS Kayak review aims to help you decide if this sit-on-top kayak from Sun Dolphin is a good match for you.
Does it have the features you need the most in a fishing kayak, or are you still conflicted?
While this is a fantastic fishing kayak, remember that it is not your only option.
Many different fishing kayaks can help you have a great time angling on the water.
It's up to you to decide which is going to be the best investment for your specific needs.