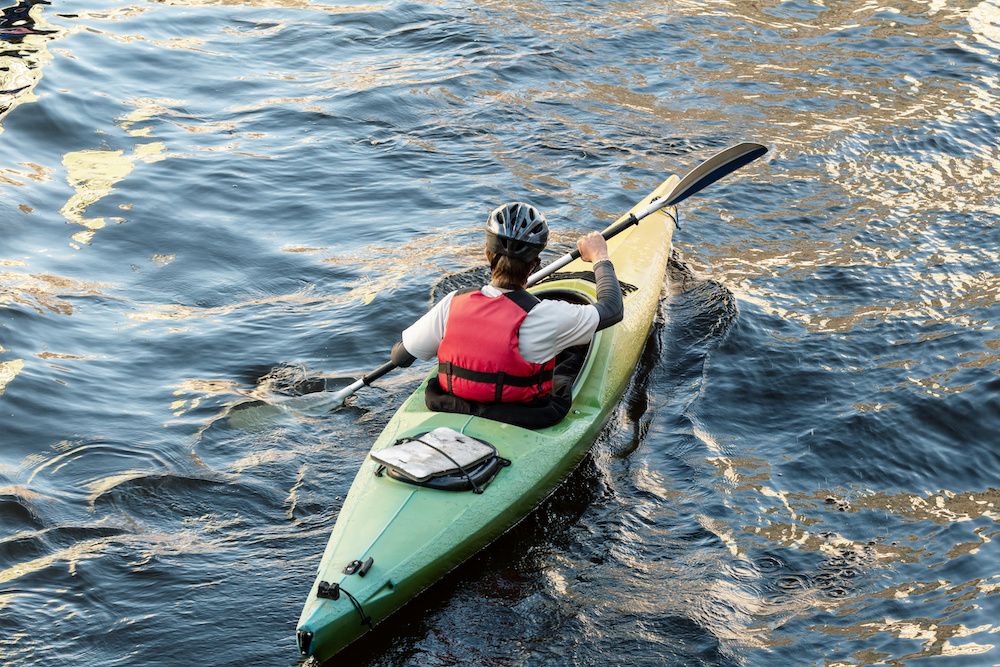 Intex Challenger K1 Kayak Review: Is It Worth It?
Inflatable kayaks are popular options for those concerned about storage space, portability, and a number of other factors.
How do you compare different options to determine your best companion on the water?
This Intex Challenger K1 Kayak review will give you the chance to take an up-close look at all of the features and specs of this particular model.
As one of the best inflatable kayaks today, it has many interesting components you won't find in other options.
Intex Challenger K1 Kayak Review
The Intex Challenger K1 is a budget-friendly and inflatable sport kayak you can rely on for your adventures on the water.
You can easily make the most of your time out exploring the wonders of nature with this easy-to-use kayak.
Who Is This Product For?
The Intex Challenger K1 Kayak is for casual kayakers who want a kayak they can enjoy using without spending a fortune.
It is also an excellent choice for those who wish to try out kayaking for the first time.
If you want to bring a kayak along when you go hiking or camping (and pack weight is a concern), this is also a good option.
Anyone who doesn't have storage space to keep a full-size kayak will appreciate the practicality of keeping an inflatable one instead.
On the other hand, if you are a kayaker who hopes to explore dangerous or high-speed waters, this will not be the ideal choice.
Additionally, those who want to get the latest features in kayaks will want to look for a more high-end model than this one.
What's Included?
In addition to the nine-foot Intex Challenger K1 Kayak, you would receive an 86-inch paddle, a high-output pump, and a carry bag to keep everything together when not in use.
Additionally, the package comes with a simple patch kit so that you can make repairs if you accidentally puncture your kayak.
Overview of the Features
It is not easy to find a kayak that matches your every need.
From looking for the right size to comparing between similar features, there are a lot of factors to think about.
Begin narrowing down your list by learning more about the Intex Challenger K1.
Puncture-Resistant, Durable Exterior
The majority of beginners look at inflatable kayaks as something disposable. In reality, this is far from the truth.
The Intex Challenger K1, for example, boasts a durable, welded exterior that is made to be puncture-resistant.
This is a very important feature to keep in mind, as one puncture may cause your inflatable kayak to sink and become unusable.
The Boston valves on the air chambers make it easier to inflate and deflate the kayak quickly so that you can keep moving.
Another line of defense against sinking is the two separate chambers that make up this inflatable kayak.
With this, should something happen to one chamber, you're not completely out of luck as you still have the other one to keep you afloat.
Comfortable Cockpit and Stable Floor
For your comfort, the cockpit of this kayak is comfortable with a good amount of space.
The floor of the kayak has inflatable I-beams, which add an extra layer of stability. This ensures you will stay balanced while kayaking.
Enough Storage and Easy Maneuvering
There is a cargo net on the kayak where you can store your supplies safely. It will keep your valuables safe, including anything from your survival gear to your packed lunch.
The sides of the kayak have grab lines for easy maneuvering.
All in all, it weighs 27 pounds when inflated, measures nine feet long, and has a maximum capacity of 220 pounds.
Again, the kayak kit includes a high-output pump you can use to inflate it.
Keep in mind that you can replace this pump with your preferred model if you would rather use something else.
Everything you need to get right out on the water is included in the kit, so you won't have to make any additional trips before you kayak.
Is Getting an Inflatable Kayak a Wise Choice?
Some might be unsure if getting an inflatable kayak is the right choice for them or not.
For them, using something inflatable doesn't always seem like the right choice.
However, there are many scenarios where having an inflatable kayak is going to be a great option.
1. It's an affordable option for beginners.
Are you new to kayaking, and you're not sure if this will be a sport you keep up with?
In that case, using an inflatable kayak is a great way to give the activity a try first without a heavy financial commitment.
Find out if you like the basic idea of kayaking before you go all-in with a hard-shell kayak.
2. It is lightweight and portable.
The biggest draw for many when considering an inflatable kayak is how lightweight, portable, and easy to store it is.
Hard-shell kayaks take up a lot of space and can be hard to transport. But that will never be a problem when dealing with an inflatable kayak.
If you are limited on space or carry weight, this is a great reason to consider going with an inflatable kayak as your first option.
3. It is great for camping, hiking, and other adventures.
Compared to its counterparts, you can keep inflatable kayaks in a small space. They are also relatively more lightweight.
Because of these, they can be a good option for those who want to bring water transportation on their next adventure.
Whether you're going hiking or camping, adding an inflatable kayak to your packing list can expand just how far you can go exploring.
Don't let your feet hold you back. Bring river transportation so that you can cover even more distance while on your next adventure.
4. It can upgrade above and beyond.
If you decide you love kayaking, there are high-end PVC models you can get for an inflatable kayak.
These are great options for serious kayakers who still want the lightweight portability of an inflatable kayak.
Alternatives
Obviously, the Intex Challenger K1 Kayak is far from the only option you have.
If you already know you love kayaking and want to get something slightly more advanced, you can try the Aquaglide Navarro 110.
This is a mid-range inflatable kayak that is highly durable and is perfect for more advanced adventurers.
Beginners who want to try out a hard-shell kayak instead of an inflatable one may check out the Lifetime Hydros Angler Kayak.
While priced in the same range, it is a reliable kayak that offers great stability and tracking.
Is the Intex Challenger K1 Kayak Any Good?
This Intex Challenger K1 Kayak review shows just how affordable kayaks can also be a great option for beginners and experienced riders alike.
Not only is it lightweight and easy to move, but it also has good durability for the price point and will bring many adventures into your life.
If this isn't the ideal option for your needs, there are many other great inflatable kayak options out there.
Choosing an inflatable kayak is difficult because there are so many great options. Still, there is no doubt that the Intex Challenger K1 Kayak is among the best.
Every inflatable kayak has its pros and cons. We hope that today's review helps you determine if the Intex Challenger K1 works for you.