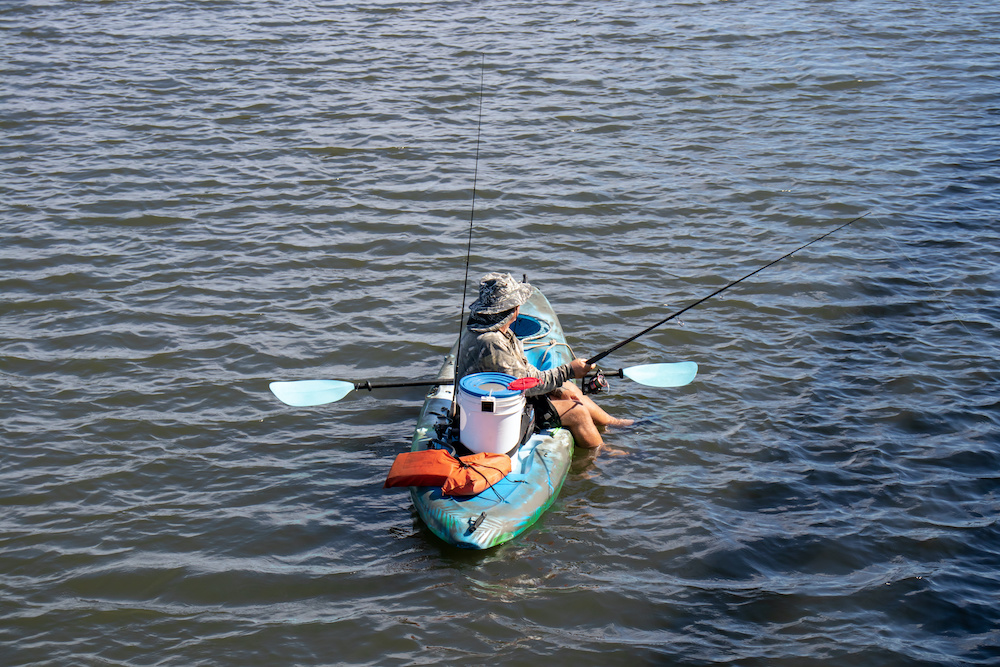 Best Fishing Kayak Under $500 of 2021: Complete Reviews With Comparisons
As a keen fisherman, you know that quite often, some of the best fishing spots just can't be reached from shore.
Owning a fishing kayak will allow you to explore the waters more and find new honey holes, all without the expense of a boat.
Not to mention, a kayak is much easier to take away with you on holidays and to new areas to catch even more fish.
To find the best fishing kayak under 500 dollars, we review five popular models to see how they match up.
Comparison Chart
Sevylor Quikpak K1 1-Person Kayak
Bestway Hydro-Force Koracle Inflatable Kayak Set
Solstice by Swimline Durango Kayak
Airhead Montana Kayak 2-Person Inflatable Kayak
Sevylor Big Basin 3-Person Kayak
Best Fishing Kayak Under 500: Brief Reviews
1. Sevylor Quikpak K1 Kayak
The first kayak we chose to feature as a contender for the best kayak for fishing under 500 bucks is a one-person kayak from Sevylor.
Sevylor has been manufacturing inflatable water sport and recreation products since 1948.
They have a global reputation for being both high quality and affordable.
Review
The Sevylor Quikpak works just like a traditional kayak but is more easily transported between your fishing hotspots because it is inflatable.
It folds down into a backpack, so you can carry it around more easily.
This is especially useful if you need to walk for a while before entering the water.
The backpack then doubles up to make a seat, meaning you have a backrest when you are out in the water.
Besides the easy-to-carry backpack, the other main feature that attracted us to this kayak was how fast you can be in the water.
Despite being an inflatable, once you know what you're doing, you can be in the water in five minutes flat, which gives you more time for fishing.
The 21-gauge PVC material used is rugged and hardy, ideal for lakes and other slower-moving, smaller bodies of water.
The bottom of the kayak is also reinforced with tarpaulin to make it stronger and more puncture-resistant.
If a disaster were to strike and you did get a puncture, luckily, this kayak works on a multiple chamber system.
If one chamber punctures, you still have another one to keep you afloat until you get back to shore and can repair it.
This kayak also features double-lock valves for easier inflation and deflation.
The Quikpak airtight system is guaranteed not to leak, too.
It doesn't have any built-in rod holders, so you will need to either hold onto your pole or balance it in between your legs.
Speaking of your legs, it is also really comfortable.
It has multi-position footrests, so you can find the best sitting position depending on your leg length.
There is a storage area at the front of the kayak where you can keep your tackle box.
Plus, it comes with everything you need to get going, including an air pump and a double-ended oar.
When you also take the low price into consideration, this has got to be one of the best one-man fishing kayaks around.
2. Bestway Hydro-Force Koracle Inflatable Kayak
Another contender for the best fishing kayaks under 500 dollars comes from Bestway Inflatables and Materials Corp.
Bestway has been operating since 1994, and its products can be found in over 110 countries around the world.
Review
This Bestway kayak is the most affordable on our list, so if you are on a tight budget, then this might be the right one for you.
Again, it's a one-person kayak, making it portable and lightweight. However, it doesn't fold up into a handy backpack like the kayak from Sevylor.
Instead, it does come with everything else you need to get going, such as a double-ended oar and air pump to inflate the kayak itself.
You also get a heavy-duty repair patch just in case you run into trouble.
It can comfortably seat one passenger weighing up to 330 pounds, or if you're lighter, you can take more gear out with you.
Bestway has added some thoughtful details to this kayak, including a built-in oar clasp.
This means you don't have to find somewhere to balance your oar when reeling in a fish.
This kayak also has the benefit of a built-in fishing pole holder, so you can relax and admire the scenery with your hands completely free until you have a fish on.
It has a comfortable, wide-opening cockpit that features a built-in inflatable backrest.
This guarantees you get enough lumbar support for when you are out fishing for the day.
Four different footrest positions help accommodate almost any height, and there's a removable fin for directional stability in the water.
The kayak also has a rope that wraps around the entire body, making it much easier to maneuver onshore.
Plus, it is also really useful when you want to tie yourself off at a dock or another kayak or boat.
3. Solstice by Swimline Durango Kayak
The Durango is a convertible one- or two-person kayak from Solstice by Swimline.
This brand is a family company founded in 1971.
Since then, it has expanded from swimming pools to a broader variety of products that help you make memories on the water.
Review
There are obviously times when you'll want to take someone fishing with you, whether they be your partner or your child.
This convertible kayak gives you the option of having a passenger when you want one. However, you need to stick to a 400-pound maximum weight.
When using the second seat, you'll obviously have a lot less room for your legs, and you might be a bit cramped if you're both very tall.
The construction is rugged with a tough 840 denier nylon cover and a triple-layered bottom made of 1000 denier nylon, making it more puncture-resistant.
This tough bottom also makes it more dog-friendly than many other inflatable kayaks.
What's impressive is the I-Beam floor, which is very strong but surprisingly lightweight for easier transport.
This kayak comes with a carry bag, making it much easier to pack away and move around when not in use.
You get two sturdy adjustable bucket seats in the package, so you can just leave one in storage if you don't plan on using it.
A detachable skeg is also included, which helps with tracking if the water conditions are rougher.
You can easily and safely secure your fishing gear with heavy-duty D-ring tie-downs and bungee cords covering the fore and aft.
The Durango is quickly inflated and deflated, too, thanks to the high-pressure Boston valves.
Once inflated, you can maneuver it easily because of the two built-in carrying handles.
Unfortunately, as with the first kayak on this list, you won't find any fishing pole holders on this model.
To be fair, it does seem to be a demanding feature to come by when looking at the under $500 price range.
4. Airhead Montana Kayak
The penultimate contender for best kayak for fishing under 500 bucks is another two-person inflatable from Airhead.
Airhead was founded in 1991 and boasts an excellent reputation in multiple sports markets.
Review
This kayak is another one of the most expensive options on this list. However, it still falls very comfortably within the $500 budget range.
The first thing you'll notice is that it is blaze orange. The company made it this color for better visibility and safety.
This two-person kayak has a higher weight allowance than the Durango.
It can comfortably accommodate two riders weighing a total of 500 pounds.
Again, it has been designed for smaller bodies of water, but its construction can also withstand moderate white water.
It is everything you want an inflatable kayak to be in that it's lightweight, compact, and portable.
Two inflatable seats are included. These have backrests and mesh pockets for handy and easy-to-reach storage.
There are three air chambers in total, so if one goes down, then you do have a backup.
Each air chamber is enclosed with rugged 840 denier nylon, which is also treated with UV and water-resistant coating.
The bottom of the kayak is made from durable tri-laminate material that can offer a lifetime of use.
This kayak takes comfort to the next level with adjustable foot braces and neoprene elbow guards.
It features three Boston valves for extra fast inflating and deflating, giving you more time in the water catching fish.
The handles on the sides make it easier to get in and out of the water.
Lastly, a carry bag with a nice padded shoulder strap is also included.
This kayak is clearly built to last with stainless steel and nylon hardware that will not corrode over time. This is especially important if you are saltwater fishing.
Storage-wise, you also have hardy D-rings at the bow and stern, as well as a stretch net across the bow.
5. Sevylor Big Basin Kayak
For our final option in our search for the best fishing kayaks under 500 dollars, we found another one from Sevylor.
We already looked at their one-person kayak, but the Big Basin can accommodate up to three keen anglers.
Review
As with the one-man kayak, this is constructed with heavy-duty PVC and a tarpaulin-lined bottom to make it more puncture-resistant.
While it is very rugged, it is better suited to lakes and isn't recommended for even moderate white water (like the kayak from Airhead).
This kayak will only be suitable for anglers who like to fish in lakes and very slow-moving water.
Multiple air chambers are utilized to help you stay afloat if one is punctured.
As an added protection, the airtight system is guaranteed not to leak.
Like the other kayaks featured here, it features a Boston valve for easier and faster inflation and deflation.
As a kayak that seats three people, we really like that you can move the adjustable seats to suit your needs and preferences.
There is a maximum weight allowance of 490 pounds, but you could easily remove one or two of the seats if needed.
Carrying handles make it easier to get in and out of the water.
It also has spray covers that will help block splashes from the oars.
When you are out fishing in colder temperatures, these spray covers are a very nice feature to have.
Finally, this kayak isn't even the most expensive on our list, so Sevylor has done well in making a sturdy, three-man kayak at this price range.
Having said that, however, there isn't a lot of space left over for fishing gear when you have three people in this kayak, so it might be better to limit it to two.
FINAL VERDICT
Choosing one winner as the best fishing kayak under 500 dollars isn't easy, as it depends on whether you want one seat or more.
Overall, though, we are most impressed by the most affordable kayak we featured on this list—the Bestway Hydro-Force Koracle.
It isn't as hardy or durable as some of the others, but it works.
It is also the only kayak that made it to our list that actually has a rod holder!
If you do want something larger or more long-lasting, we recommend the kayak from Solstice by Swimline.
It's four times the price, but you will have a lot more space and the option to take someone out with you.
Plus, the rugged construction will mean it will last you for years to come.