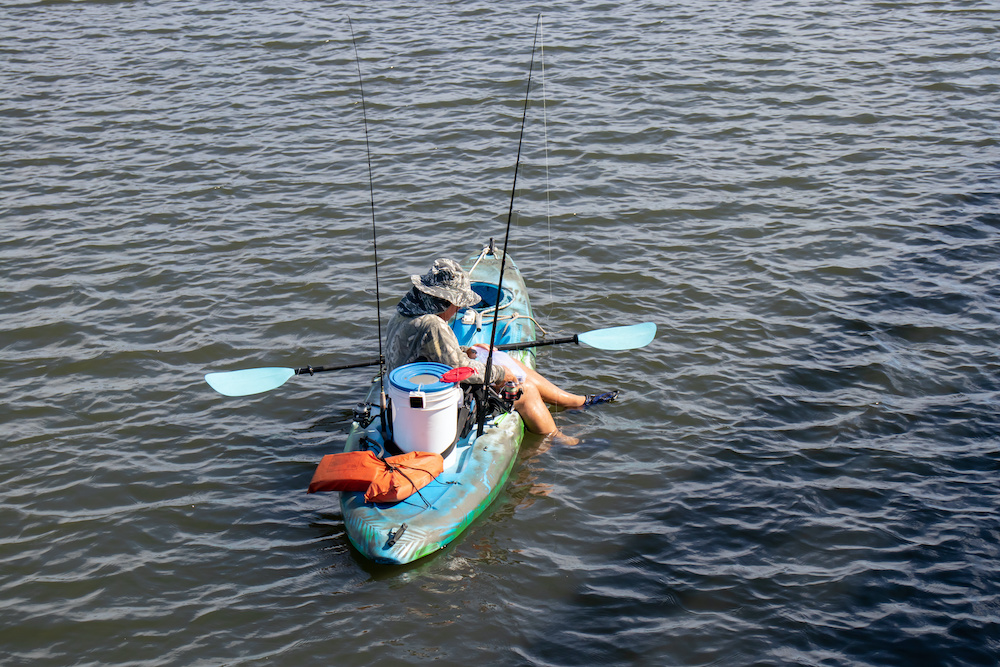 Best Fishing Kayak Under $1,000 of 2021: Complete Reviews With Comparisons
They say that kayaking is an expensive sport, and so does angling. Kayaks are not cheap, more so fishing kayaks.
Some fearless anglers want to explore other areas out of reach for larger vessels; thus, using a smaller boat.
Looking for the best fishing kayak under 1000 may be a challenge for most people because of the different options available in the market today.
Hence, we are here to recommend five of the best kayaks under 1000, reducing your selection to these options.
Comparison Chart
Lifetime Hydros Angler Kayak with Paddle
Perception Tribe 13.5 Sit on Top Tandem Kayak
Wilderness Systems Pungo 125 Kayak
Lifetime Cruze 100 Sit-in Kayak
Perception Flash 9.5 Sit Inside Kayak
Best Fishing Kayak Under $1,000 Reviews
1. Lifetime Hydros Angler 101" Kayak
The Lifetime Hydros angler kayak comes in a safe and stable design using high-quality, durable materials resistant to impacts.
Review
Our first recommendation for the best kayaks under 1000 is the Lifetime Hydros Angler made of high-quality polyethylene durable material using the blow-molding technique.
This superior material offers UV protection, ensuring that the kayak will not crack, fade, or peel even if you use it for more extended periods in undesirable conditions.
It's a lightweight adult kayak weighing 41 pounds and measures approximately eight feet and five inches with a maximum load capacity of 225 pounds.
This fishing kayak comes with multiple footrest positions to accommodate anglers of different sizes.
It also comes with a swim-up deck molded into the kayak.
You will also find multiple rod holders, two flush and one adjustable, that you can use for enjoying your fishing activities.
Its hull design is a combination tunnel that offers excellent stability and smooth tracking while on your fishing expedition.
You can easily transport the kayak using the front T-handle or the carry handle at the deck's center.
There are also shock cord straps found at the front and rear of the boat.
The Lifetime Hydros Angler is a sit-on-top kayak that includes a paddle and a five-year limited warranty upon purchase.
2. Perception Tribe Tandem Kayak
Our second recommendation for the best kayak under 1000 comes from the Perception Tribe series, offering fun and versatility for anglers.
Review
The Tribe 13.5 is a sit-on-top kayak suitable for beginners and intermediate paddlers, providing them with excellent stability combined with quick performance.
Its overall design promises fun and enjoyment in flat water, beaches with light waves, and coastal bays.
The Tribe's Comfort Seating System comes with a framed seat covered with thick breathable padding that offers superior relief and support as you sit for extended periods.
It comes with a three-seat configuration that can comfortably accommodate two adult paddlers and your dog or a small child.
The molded knee and thigh areas give you the perfect fit and comfort as you paddle and journey through the calm waters.
The backseat is easily adjustable to your preferred comfortable position and personalized fit.
You can even fold it if you need added storage space.
Multiple footrest adjustments allow you to adapt it to the paddlers' leg length and add comfort during the journey.
You can keep your essentials and small items safe and secure in the built-in bag inside the center hatch with its protective cover.
There are open storage spaces on the kayak's front and back for your cooler and other gear, which you can secure with bungee cords.
Conveniently placed in front of your seat are built-in cup holders to keep your drinks from spilling over as you paddle.
It also comes with rugged side handles, allowing you to transport and move the kayak with ease.
You can also use these handles for locking the vessel on top of the car during transport.
Additionally, the scupper holes serve as drainage to keep the water out of the vessel.
3. Wilderness Systems Pungo 125
The Wilderness Systems reintroduces the Pungo 2019 version, a sit-inside recreational kayak with reimagined design elements.
Review
Pungo 125 is part of the recreational kayak series from Wilderness Systems.
It's also another recommendation for our list of the best kayak under 1000.
The Wilderness Systems kayaks are known for their comfortable Phase 3 AirPro seating system, which is also present in the Pungo 125.
Its reinvented design offers improved comfort, performance, and style.
Some of the new features include the removable skid pads and the oval Orbix hatch.
The redesigned and upgraded Kayak Konsole allows the paddlers to customize their setups according to their needs and preferences.
It now comes with a removable dry box and two cup holders for your favorite drinks.
You will also find the SlideTrax and two additional customizable mounting platforms for mounting fishing rods, your phone, and other accessories.
There's also a dedicated area for holding the Wilderness Systems' Lithium Battery, so you can always charge your gadgets even while onboard.
The Pungo 125 kayak measures 12 feet and six inches, weighing 53 pounds, and can carry a maximum weight of 425 pounds.
It is the perfect watercraft to use for calm, slow-moving, and calm coastal waters.
The old and new features of Pungo 125 provide an energetic on-water performance, excellent stability, unrivaled speed, and exceptional comfort.
Its famous hull underwent extreme engineering and testing to ensure its stability without affecting its performance.
Also, the Pungo's incredible speed and efficiency make paddling easy.
This 2019 Pungo sets the bar for other sit-inside kayaks with its nimble performance attributes, enhanced design, and world-class fixtures.
4. Lifetime Cruze Sit-in Kayak
The Lifetime Cruze Sit-in Kayak is one of the best fishing kayaks under 1000 that is ideal for beginners for their water adventures.
Review
The Lifetime Cruze Sit-in Kayak has a length of ten feet, weighing 46 pounds, and can carry a maximum weight of 275 pounds.
A durable boat made from UV-protected, high-density polyethylene material ensures that you can enjoy and have fun for a long time.
The Cruze 100 comes with a five-year limited warranty from the manufacturer, promising superb comfort and performance.
One of the reasons for its excellent performance is due to its superior construction.
It has a sharp bow with deep hull channels that offers decent speed and smooth tracking.
Its flat-bottomed hull and chine rails provide outstanding stability, while the tracking skeg allows straight paddling.
The kayak has outstanding features like the bungee shock cords, and the toggle handles placed at the boat's front and rear.
It also comes with an oval storage hatch at the back as an added storage space for your gear and an adjustable quick-release seat pad and backrest that offers optimum comfort.
The toggle handle at the back plus the molded side handle allow you to carry and transport the kayak with ease to and from the water.
There are also multiple footrest positions for accommodating paddlers of different sizes.
5. Perception Flash 9.5 Kayak
The Flash 9.5 sit-in kayak from Perception is one of the best fishing kayaks under 1000, offering fun and versatility on your adventure.
Review
This sit-inside kayak is easy to paddle, which makes it perfect for beginners and experienced kayakers alike.
It comes with a stable hull and accurate tracking to let you stay on the course using quick maneuverability.
The Flash 9.5 kayak is your perfect fishing vessel with its ten-inch storage hatch and molded-in rod holders.
It has a simple and low maintenance design that provides ease of use for all types of paddlers and leisurely cruise.
The boat is 9.5 feet long, 28.5 inches wide, and is lightweight at 41 pounds, making it easy to carry and transport.
It has a maximum weight capacity of 325 pounds for both paddler and gear, giving you enough allowance to bring the things you need for the journey.
You can be sure that the boat will stay on course through the dual tracking channels' help.
Navigating and maneuvering the kayak is never an issue due to its short length.
The USA-made kayak's simplicity and stability make it one of the most sought-after watercraft in the market today, which is available in three color variants.
Stay comfortable throughout the journey as you sit and adjust the backrest on the padded seat to keep you more relaxed and convenient.
The molded handles are strategically placed, making it easy for you to carry the boat even without help.
You can also use these in locking the kayak with a cable.
Enjoy wading through calm coastal environments, lakes, ponds, and slow-moving rivers in this sit-in kayak from Perception.
It is easy to clean and drain the boat with the drain plug placed at the kayak's back, while the center cup holder keeps your drink within reach.
The molded-in unique dashboard storage allows you to keep essential items and small gear within reach while on the journey conveniently.
The spacious and roomy cockpit makes it easy for you to go on and off the kayak.
Right in front of you is a paddle park complete with bungee for added convenience.
Fishing Kayak Under 1000 FAQs
Does Kayak Color Matter in Fishing?
According to seasoned anglers, the color of the kayak does not matter to the fish.
However, the movement you make and the shadow it creates usually scare the fish.
Your kayak color choice is crucial to your safety, which will help other paddlers see you from afar, like the colors orange and yellow.
Overall, choosing your kayak color is more of a personal inclination.
You can pick a color for visibility or stealth, whatever you prefer.
If you are fishing in an area with high boat traffic, choosing a bright neon colored kayak will ensure that you are visible to other boaters.
Some of the best color options are neon green lime, marine orange, and bright yellow.
Darker colors typically blend with the background when seen from a distance.
The brighter colors are visible not just from afar but even on a cloudy and gloomy day. One exception to this is the color white.
Some anglers claim that white might scare the fish away, although this declaration has no confirmation yet.
Is Kayak Fishing Worth It?
To answer the question, yes, kayak fishing is worth it.
This boat offers better access to areas where fish abound. It also offers versatility and efficiency.
Kayak fishing is getting its fair share of popularity around the world.
The boat is portable and more affordable than traditional fishing vessels.
You can find an overwhelming selection of the best fishing kayak under $1000, both online and in physical stores.
Apart from the vessel's price, its maintenance cost is also lesser than the conventional fishing boat.
Hence, most anglers highly recommend a kayak as one of the best fishing platforms because of its functionalities.
If you wish to modify your fishing kayak, you must be prepared to spend more on accessories and electronics.
Kayak fishing offers easy access to various water types without using any special equipment for launching.
You can also fish a wide variety of aquatic species with kayak fishing since it can access east water into blackwater and catch largemouth bass.
On the other hand, kayaks can also fish in shield lakes and fast rivers and catch other fish species.
Some fishing kayaks are broad and stable, allowing you to pitch targets, while others can access small lakes and cast.
The portability of kayaks makes it easy to move from one body of water to another.
Since some kayaks are lightweight, you can just put them on top of your cars to transport.
Kayaks offer better fishing positions and casting angles.
Its low-profile design is a great advantage, especially when fishing below overhanging trees.
Kayak fishing lets you choose an ideal posture for every angling scenario you are in at the moment.
Fishing kayaks are highly customizable according to your current needs.
Most manufacturers offer accessories to make a great fishing vessel out of your boat.
These manufacturers also provide an upgrade for most of your kayak components, depending on your required enhancement.
Kayak fishing is more comfortable than the traditional kind since there is a designated seat for the anglers while trying to catch a fish.
The kayak seats' designs focus on comfort and support, which allows the paddlers to adjust it to their preferred position.
Since most kayaks are lightweight, they hardly make any noise while on the water except for the paddle's sound.
What's the Difference Between a Fishing Kayak and a Regular Kayak?
There are different types of kayaks, and we will try to check each one to determine which one suits you best.
Kayaking offers a wide range of activities, from cruising through whitewater rapids to wading on the calm lake waters.
For each activity, you need to use a specific type of kayak suitable to your adventure and what you want to accomplish.
Fishing Kayak
Kayak fishing is becoming popular, and more emerging kayaks have added features like pontoon stabilizers, the flat-bottomed hull for stability, and pedal-powered water wheels.
Fishing kayaks are available in both sit-inside and sit-on-top varieties, giving you the option to choose which one you are most comfortable with.
Generally, fishing kayaks are lighter and shorter than the traditional varieties.
They are easier to maneuver in or out of the water and more manageable to store.
They also offer different storage spaces where you can store your gear and your catch for the day.
However, fishing kayaks tend to be slower than regular ones and require extra effort and energy to paddle.
These kayaks are constructed for day trips and short journeys, lacking the storage and luxuries suited for more extended expeditions.
Recreational Kayak
Recreational or traditional kayaks are stable and easy to steer and navigate.
It comes with a broader hull with a length typically shorter than 12 feet.
It has large accessible cockpits but small storage spaces for keeping your essentials and other gear.
It's the perfect watercraft for flatwater streams, lakes, saltwater areas without winds and waves.
You will find recreational kayaks in both sit-inside and sit-on-top categories with broader beams for added stability, reducing the risk of capsizing.
Recreational kayaks are ideal for beginners since they are easier to maneuver and navigate.
That said, the boat's improved steerability compromised its ability to keep a straight line or provide smooth tracking.
Its inability to maintain a straight line makes it harder and tiring to paddle for more extended periods.
Since it's designed for use in calm waters, it will perform poorly when place in rough waters.
What Is the Best Cheap Fishing Kayak?
From the five recommendations we reviewed, we choose the Perception Flash 9.5 kayak as the best fishing kayak under 1000.
We compared the features of each fishing kayak and decided to stick to our initial choice.
It has a roomy cockpit and a lightness that enables one person to easily transport the kayak from one place to another.
It also offers the stability and durability we all want in our kayaks.
If you think that this list of the best fishing kayak under $1000 is still above your budget, you can check our more affordable selection.